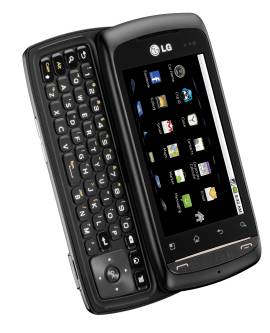 As Alltel continues to expand their smartphone offerings, they have just announced a new Android-based handset for their network, the LG Axis. The device will be an entry-level phone and will ship with Android 2.1.
Other features of the device include a 3.2-megapixel camera, and a slide-out keyboard. Clearly focusing the "teen-texters" market, the device will sell for $89.99 after a $50 mail-in rebate making it a decent option for anyone wanting a physical keyboard.
Press Release:

LITTLE ROCK, Ark. — Alltel Wireless and LG Mobile Phones today announced a new smartphone, device, LG Axis. Versatile and sophisticated, LG Axis offers Alltel customers a Google Android user interface, customizable applications and entertainment experience that will keep users effortlessly connected to the things that matter the most, wherever life may go.
Equipped with Google Android 2.1 and access to the Android Market, LG Axis provides users with more than 80,000 applications for music, games and other entertainment categories. LG Axis also allows users the ability to customize up to five different home screens by adding or removing shortcuts to their favorite applications and widgets, creating a unique phone that is tailored to meet their personal needs.
"Alltel Wireless is excited to offer a versatile, feature-rich smartphone with superior capabilities," said Scott Moody, Alltel Wireless Vice President of Products and Services. "LG Axis allows you to navigate through multiple screens with a simple touch or utilize the slide out keyboard for quick, accurate messaging."
Along with a speedy user interface, LG Axis includes Google Maps? Navigation with voice-aided, turn-by-turn directions and a 3.2 megapixel digital camera and camcorder with a 4x zoom. The smartphone is also Wi-Fi enabled, giving customers two ways to connect to the Internet ? through Alltel's fast 3G wireless network or through any available Wi-Fi hotspot.
"LG Axis provides consumers with an easy-to-use Android device that complements busy schedules and growing mobile entertainment needs," said Tim O'Brien, vice president of marketing for LG Mobile Phones. "Allowing users to quickly download a wide variety of content and applications, LG Axis creates a customizable experience that will enrich everyday activities and streamline life's most demanding tasks."
Additional LG Axis key features include:
-Bluetooth wireless technology for a hands-free experience or to easily transfer data to a computer.
-Multi-function usage that allows customers to play music in the background while sending messages or surfing the web.
LG Axis is available at Alltel Wireless for only $89.99 after a $50 mail in rebate and a two year service agreement.
Alltel Wireless continues to be an industry leader, providing customers its exclusive "My Circle" feature ? unlimited calling to and from any 5, 15 or 25 numbers on any network as well as unlimited text to their circle on select plans. Alltel Wireless was also the first to offer Anytime Plan Changes, giving customers flexibility to change their calling plans at any time without extending their contract. Now with "Free Fridays", new and existing Alltel customers who sign up for a qualifying rate plan will now receive unlimited free calling on Fridays.
About Alltel Wireless
Allied Wireless Communications Corporation (AWCC), doing business as Alltel Wireless, is a wireless telecommunications provider serving more than 800,000 customers in six states. Headquartered in Little Rock, AR., AWCC is a subsidiary of Atlantic Tele-Network, Inc. (NASDAQ: ATNI). For more information, visit www.alltel.com or www.awcc.com.
About LG Electronics, Inc.
LG Electronics, Inc. (KSE: 066570.KS) is a global leader and technology innovator in consumer electronics, mobile communications and home appliances, employing more than 80,000 people working in over 115 operations around the world. With 2009 global sales of 55.5 trillion Korean won (USD 43.4 billion), LG comprises four business units ? Home Entertainment, Mobile Communications, Home Appliance, and Air Conditioning and Energy Solution. LG is one of the world's leading producers of flat panel TVs, audio and video products, mobile handsets, air conditioners and washing machines. LG has signed a long-term agreement to become both a Global Partner and a Technology Partner of Formula 1. As part of this top-level association, LG acquires exclusive designations and marketing rights as the official consumer electronics, mobile phone and data processor of this global sporting event. For more information, please visit www.lg.com.