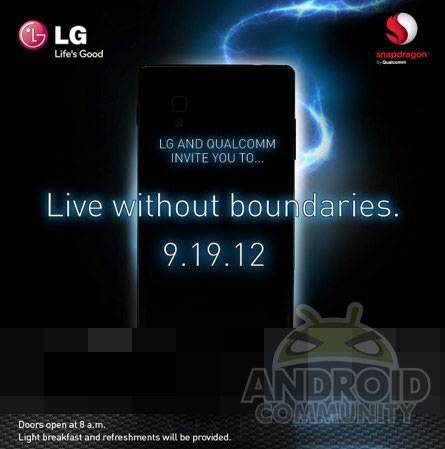 If you've been patiently awaiting the next generation of smartphones, LG and Qualcomm claim to have what you've been waiting for. Telling us to prepare to "live without boundaries." Press invites have just started making the rounds for an upcoming LG and Qualcomm event in the US later on September 19th where we'll surely be seeing the new and impressive LG Optimus G smartphone.
Both Qualcomm and LG have been making subtle yet nice hints that this will be the next-gen of smartphones. Qualcomm has introduced their extremely fast, powerful, and efficient Snapdragon S4 Pro quad-core processor (double that of the Galaxy S III) and LG's introduced their new TrueHD IPS display and new and improved battery life technology. Pair all of this together and LG is hoping this catapults them to the next level.
Their "live without boundaries" comment will probably have a lot to do with that extremely powerful quad-core processor under the hood, as well as battery life. LG claims their screen enhancements and battery technology paired with the S4 Pro will offer exceptional results — and thus life without boundaries.
LG has been teasing the upcoming Optimus G in a few very light on details videos, so we still don't fully know what to expect but the device has been officially announced by LG a few weeks back. We can expect a 4.7-inch TrueHD IPS+ display with a 1280 x 768 resolution, on-screen nav buttons, a 13 megapixel camera (in some regions) 2GB of RAM, and of course that 1.5 GHz quad-core processor chugging along with ease. We'll be learning more at LG's event on September 19th for the US model — hinted as the AT&T Eclipse 4G LTE — as well as other details on the Korean model any day now. Stay tuned!
[device id=3353]