You can probably count on one hand, or at most two, the very few Android tablets that have really made people's heads turn. The very first Samsung Galaxy Note tablet, ASUS' transforming PadFones, NVIDIA's original SHIELD handheld and 5-inch tablet in one, just to name a few. And it has actually been quite a while since anyone dared to change the tried and true and really old tablet formula. This year, however, Lenovo has chosen to, in some ways, throw caution to the wind with the odd but interesting Yoga Book. We take a deep dive to see if this is really the tablet that no one asked for but everyone would want.
The Spiel
"The ultimate 2-in-1 productivity tablet." That is Lenovo's tag line for the Yoga Book. That already is a big departure from most Android tablets, most of which focus squarely on using tablets for leisure, with only a pinch of productivity on the sides. And even then rather forced and painful. Even Lenovo's other Yoga tablets are of that same breed.
In contrast, the Yoga Book is geared towards making content rather than just consuming them. The form factor alone already speaks volumes, resembling Lenovo's line of 360-degree Yoga laptops more than its big-hinged Yoga tablets. But if you have, in any way, read about the Yoga Book before, you'll probably already know that it is no ordinary 2-in-1 tablet or laptop.
It is, in fact, 2 tablets in 1.
The Tablet
Although Lenovo is, of course, marketing it as just one product, the Yoga Book is actually made of up two tablets joined at the hip. Or watchband hinge rather. Amusingly enough, the "real" tablet is perhaps the least interesting of the two. That's not to say, however, that it is negligible.
That tablet, the one with the display, is actually a typical mobile device. Unlike most Android tablets, the Yoga Book is one of the few that runs on an Intel processor, specifically an Atom x5-Z8550. This was done not out of loyalty to the CPU brand and architecture but because Lenovo wanted to offer the exact same hardware with two different operating systems, Android or Windows 10. While Android can actually run on x86 processors, Windows 10, the full flavor, doesn't really mix well with ARM chips.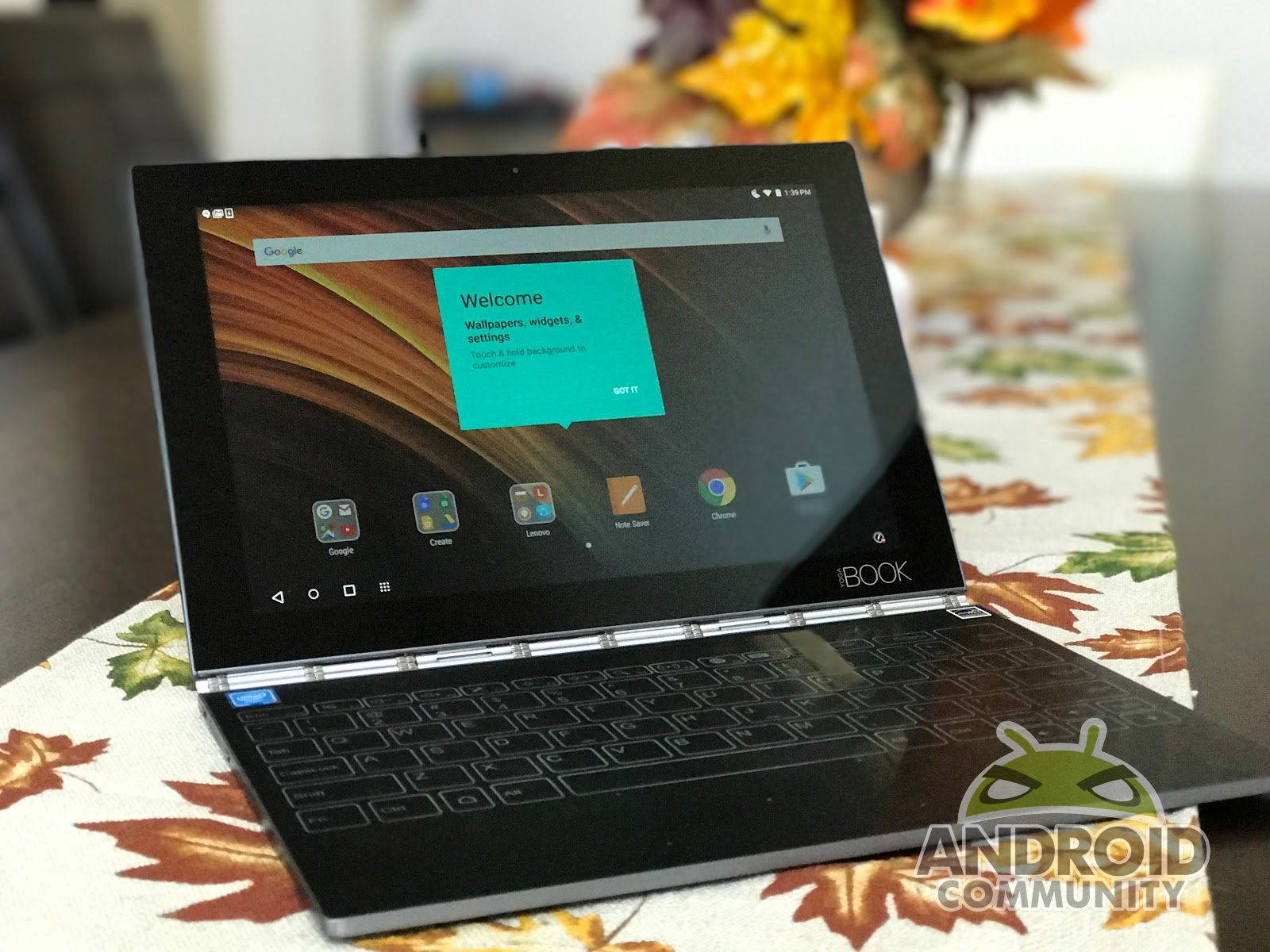 The rest of the specs are pretty much high-end, except for the display. That's a 10.1-inch 1920×1200 Full HD IPS LCD screen. Given the smaller size, however, that's a bit bearable, even in today's WQHD or 2K screens. The rear camera only has 8 megapixels while the front one gets 2 megapixel only. Unimpressive, sure, but not exactly unusual for tablets. It has a whopping 8,500 mAh battery, which is just about right since it's powering 2 devices after all.
Here's a quick run down of those oh so important numbers:
• Operating System: Android 6.0 (or Windows 10 Home)
• CPU: Intel Atom x5-Z8550
• RAM: 4 GB
• Storage: 64 GB, microSD up to 128 GB
• Display: 10.1-inch 1920×1200
• Main Camera: 8 MP
• Secondary Camera: 2 MP
• Network: N/A
• Connectivity: Wi-Fi 802.11 a/b/g/n/ac, Bluetooth 4.0
• Battery: 8,500 mAh
• Dimensions: 256.6 mm x 170.8 mm x 9.6 mm
• Weight: 690 g
The Other Tablet
Now comes the unusual part. The second half of the Lenovo Yoga Book is also a tablet, but not in the same vein as the other half. This is the type of tablet graphics artists would be more familiar with, at least before the advent of the iPad and its kin. This is basically a digitizer tablet, some call it graphics or drawing tablet, similar to those manufactured by Wacom. In fact, this one actually uses Wacom technologies as well. But unlike the regular Wacom drawing slates, this surface, which is formally called the "Create Pad", actually serves two purposes: typing and scribbling.
The first case is probably new to everyone's ears. Whereas with other tablets you have attach a physical keyboard or make do with on-screen keyboards, the Halo Keyboard, the name given to this functionality, combines the best and worst of both. The Create Pad does actually display the outlines of a keyboard, hence the "Halo" name and, unlike on-screen keyboards, it doesn't clutter up the display, taking up precious screen space. Unlike a real keyboard, however, there is very little by way of haptic feedback other than little vibrations, exactly like an on-screen keyboard. The vibrations, however, aren't localized under which area you happened to have touched, making it feel more like a small general tremor across the surface.
It is still debatable whether that kind of keyboard is more productive than an on-screen one as far as usability goes, but you can't argue with the fact that it at least offers a more natural typing position. The debate about virtual keyboards has been raging on for years, with no end in sight just yet. In the near future, human fingers and brains might have evolved enough to make the arguments moot. For now, however, it's an acceptable but imperfect compromise to an imperfect but unavoidable situation.
A Noteworthy Addition
The Yoga Book, however, shines brightest with the Create Pad's second functionality, which is, perhaps, its true raison d'être. The Create Pad, as its name so plainly points out, is for creating, and you do that, not with the keyboard, but with a pen.
This is where the "drawing tablet" part comes in. The Create Pad uses Wacom's "Feel" EMR (Electromagnetic Resonance) technology to deliver a drawing and writing experience that boasts of 2,048 levels of pressure, as well as up to 100-degrees of tilt angle. This is comparable to the same features found in Wacom's powered tablets like the Samsung Galaxy Note, the first two Microsoft Surface Pros, etc. Unlike similar technologies from N-Trig, Wacom's newer AES (Active Electrostatic Solution), and Apple's Pencil, the Yoga Book's Real Pen doesn't need to be recharged as it doesn't have batteries. All the work is done by the digitizer, which emits EMR signals that the pen bounces back to convey its position and distance from the screen.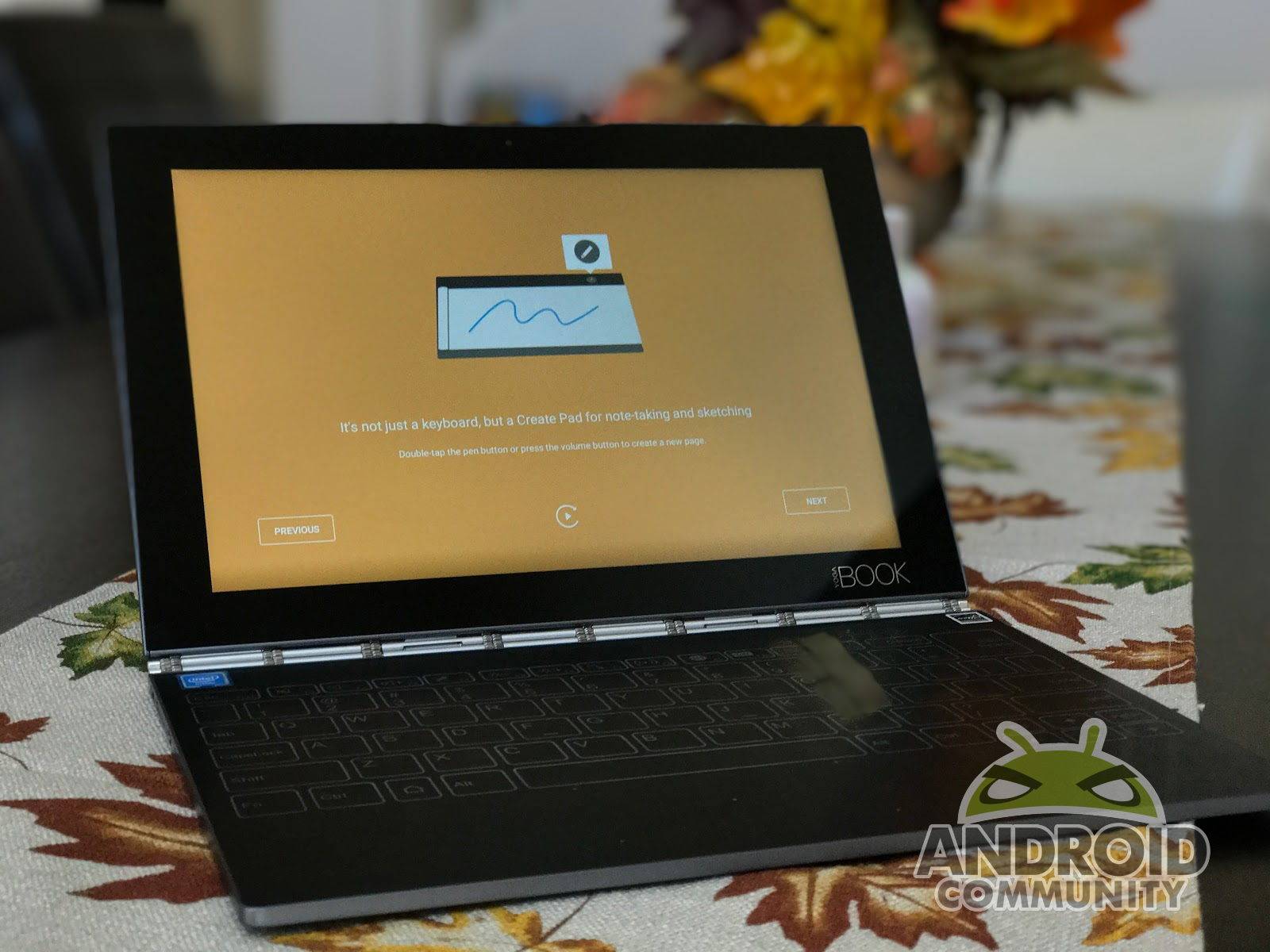 Long story short, you practically have a Wacom graphics tablet permanently attached to your Android tablet. But that's hardly the end of the story.
The Create Pad actually uses another Wacom technology to give pen and paper lovers something to chew on as well. Recently, Wacom has put out products that came with actual paper, used actual ink, but also digitized those scribbles and drawings for safekeeping. That, too, uses EMR technology, so it only made sense to throw it into the Yoga Book as well. It works the same way as well, allowing you to write with a real ink pen on real paper. You don't even need to keep a separate pen, as the Real Pen converts from digital stylus to ballpoint pen by simply changing the tips. The paper pad, formally called Book Pad, magnetically attaches to the Create Pad so you won't have to worry about it slipping and ruining the digital recording of your handwritten notes. While you can definitely write on the paper without it being attached to the tablet, you won't get a digital copy that way.

A word must be given about using the Real Pen on the Yoga Book's screen itself. That screen is fitted with Lenovo's AnyPen technology, which, in a nutshell, means that any pointed object, be it a real pen, or even a carrot, can be used like you would a finger. This means that, yes, you can use the Real Pen on the screen, but it functions just like any capacitive (those rubbery types) stylus. So no pressure sensitivity there. That might be a huge letdown for those who prefer a direct to screen interaction similar to the Wacom Cintiq or iPad Pro. Many graphics artists, however, are still more used to the older ways of Intuoses and Bamboos.
Such hardware capabilities will be for naught without software to take advantage of it. And while the Real Pen and Create Pad works great with apps like Art Rage, artists aren't the Yoga Book's only audience. Note-takers and scribblers are also included, and Lenovo has included its own Note Saver App for that purpose. Specifically, when the Book Pad is attached and the Create Pad is switching to drawing or writing mode, any scribble done on the Create Pad or the paper gets recorded and saved in the Note Saver app. And it works even when the tablet's display is off or when it's folded back so you have a single, easy to hold notepad.
A Different Kind of Android
As mentioned, a special kind of device needs a special kind of software. Sort of. While Android has long been on tablets, but it hasn't exactly lent itself well to devices with keyboards and mice. Windows 10 has a bit of an advantage here, given its history with the Surface Pro. For the Yoga Book, Lenovo has had to change a few things to make Android a better fit for this unconventional form factor. It's not as heavily customized as Remix OS, but the changes are still noticeable enough from a vanilla Android setup.
For example, the three navigation buttons have been shifted from the center all the way to the left of the screen in a more "natural" position. This is actually somewhat similar to what Google did on the Pixel C, which isn't standard Android at all. OEMs like Samsung and Motorola have done similar UI experiments in the past, but both eventually conceded to Google's wishes for a more standard, but unoptimized, tablet interface.
That's not the only UI change, of course. Unlike in a Windows environment, the notifications and status icons are still at the top, but now split into two, with notifications on the left and status icons on the right. It's an arguably better layout that doesn't cram everything in the middle, especially when you're going to use the tablet like a laptop most of the time.
One of the biggest recent complaints about Android on tablets is its lack of multi-window modes. That is partly solved by Android 7.0 Nougat, but the Yoga Book still runs Android 6.0 Marshmallow. Instead of going overboard like Samsung's TouchWiz UX, Lenovo opted to add just one multi-windowing feature. Sadly, it's not split screen mode. Instead, you can run up to three apps in multi-window mode, which makes them appear in their smartphone layout and size. These can then be moved, pinned, minimized or maximized. They cannot, however, be resized. And the feature works only for "supported apps", including Gmail, Chrome, YouTube, and Google Calendar. It's not a full-fledged multi-window solution, but it is, at least, a compromise.
Design and Performance
Despite the geeky undertones, the Lenovo Yoga Book is something an artist, or anyone with fashion sense, wouldn't be ashamed to be seen with. The 2-in-1 looks classy and slim, only 9.6 mm when folded and 4.05 mm at its thinnest edge, which happens to be the main tablet half of the device. It's not exactly lightweight at 630 g. While heavier than, say, a 9.7-inch iPad Pro, it's still considerably lighter than a Surface Pro 4. And you are, after all, getting two tablets for the price of one. Just don't expect to be holding this with one hand for a prolonged period of time.
Lenovo's watchband hinge gives it a rather unique visual flair not unlike that of the Microsoft Surface Book. But unlike that odd detachable tablet, the Yoga Book leaves no gap when collapsed. But those hinges aren't just for looks. It solves one of the biggest problems with 2-in-1 tablets, like the iPad Pro or the Surface Pro: holding the tablet half upright. It is strong enough to do that and, according to Lenovo, can survive 25,000 opening and closing movements. It would be ironic if the hinge actually outlived the tablet itself.
The battery is no problem either. Although it doesn't boast of any Quick Charge technology, the 15 hour battery life, on average use, can actually last you a day or so. Of course, your mileage will vary, depending on how productive you actually get.
The biggest bottleneck, however, will be the processor. Intel's Atom chips have never been known for their power, preferring to focus, instead, on energy efficiency and price. Although not entirely dismal, power users might quickly feel the churn of the power-efficient but low-performance Atom x5 when they start to do heavy multi-tasking. Fortunately, Android is designed to operate within hardware constraints, which could not be said the same of the Windows 10 version. Unfortunately, Android, particularly this Marshmallow version, isn't that conducive to multi-tasking.
Although it tried hard to offer some semblance of that, Lenovo's multi-window feature could only go so far. It only supports a few apps and, even then, they can't be resized at will. Most apps will run full screen in tablet mode and, even years after the disastrous tablet-centric Honeycomb, Android apps still wrestle with tablets in general. The one light of hope is Android 7.0 Nougat, which Lenovo says is coming this fall but isn't promising a date just yet.
The Lenovo Yoga Book comes in two operating system flavors and, therefore, prices. The Android model goes for $499.99 while the Windows 10 Home Anniversary Edition costs $549.99. Unlike other similar creative tablets, the package already includes everything you need to get up and running, like the Real Pen, the Book Pad, 20 refills, and 3 ball point tips. Those would cost you $40, $15, $20, and $15, respectively, when purchased separately.
Wrap-up: A Tale of Two Tablets
It's not hard to be easily mesmerized by the Lenovo Yoga Book, what it can do, and what it promises. But once the initial novelty fades away, we have to ask the hard question: is it a device worth getting? As you may have guessed, the answer isn't as clear-cut.
The Yoga Book is primarily marketed at "productive people", but such people might actually have a hard time swallowing the concept of the Halo Keyboard. We can't say for certain that keyboards like these are the future, but the new experience is definitely jarring enough to ironically make such users less productive. That said, many have actually acclimated to using virtual keyboards not only with ease but also precision, so only time can really tell.
On the other hand, the device also caters to the creative and artistic audience, and it's actually hard to get that wrong with Wacom as your co-pilot. Still, the Intuos direction is an odd one to take, especially in the age of iPad or Surface Pros. Even among digital artists there is still some debate on which one is really better.
In the end, the Lenovo Yoga Book is but a preview of the future. Even Lenovo itself says that it is just the first of many. Like any first generation device, it has a few quirks that make it less than perfect, but it deftly accomplishes what it sets out to do: offer an experience that combines the best of two creative worlds. It may not yet do for a primary workhorse, but as a companion device to take around for notes, scribbles and everything in between, it's darn near perfect.