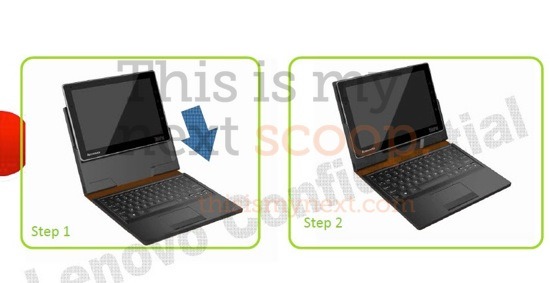 Okay, it's not called that, it's called the Android ThinkPad Tablet. But don't you think ThinkTab is more catchy? Regardless of what it's called, details of the new Lenovo Honeycomb Tablet have been leaked. And Lenovo looks to be catching the Android, and leaving Windows behind.
This is my next scored the scoop, and here's a few specs to wet your whistle. The ThinkPad Commercial Media Tablet has what's become the standard NVidia dual core Tegra 2 processor and a 10.1″ WVGA widescreen touchscreen with a resolution of 1280 x 800 display. Like the HTC Flyer, it's going old school with capacitive stylus support, and as mentioned, runs Android 3.0 (Honeycomb). Additionally, it has all the usually accouterments including USB 2.0, microUSB, and even a full sized SD card shot.
But what's really catching everyone's attention is the optional slide in keyboard dock which transforms this Android tablet into a full fledged notebook. Clearly, Lenovo is looking to the business world for it's niche market, but with Media in the title, you can bet it's not going to be all work and no play. It should also make it quite attractive to the non mac college crowd. Look for it in July of 2011 for a price of $499.
[via UnwiredView]