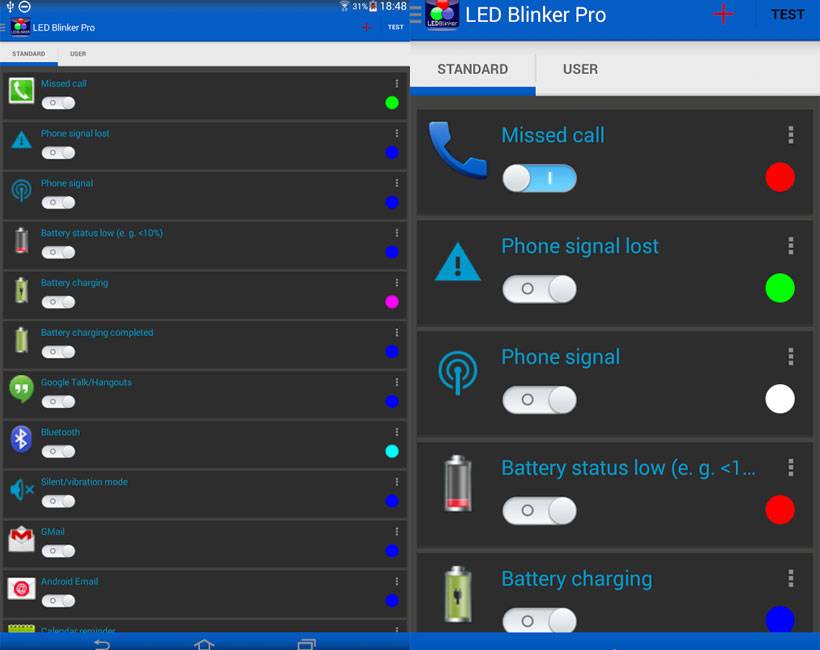 If you have a bunch of different apps that you run on your Android device that provide notifications when actions are taken or posts are made, it can be hard to keep up with them all without having to keep your phone in your hand constantly. An app called LED Blinker Notifications has launched that will show you flashing light notifications from your hardware LED light for all sorts of apps.
The flashing LED notifications support missed calls, SMS, Facebook, and Whatsapp messages. If your device has no LED light to flash, the screen is used for notifications. A paid version of the app is available that supports all apps via custom settings.
Inside the app, you can control the individual settings for each of the apps you want to monitor including the blink rate, vibration, sounds, and repeats. There are light and dark color schemes and users can import and export settings so your custom setups work when you install new ROMS or mods.
One of the features that makes this app special is that you don't need to give it ROOT access for the app to work. LED Blinker also promises to be very battery friendly. A lite version of the app is available at no cost to be sure it functions on your device.
SOURCE: Google Play