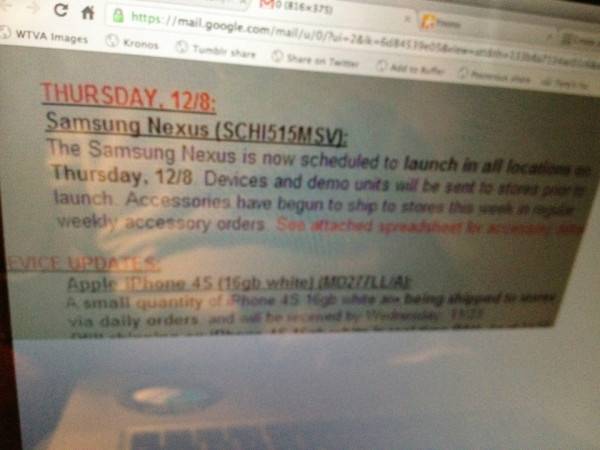 The rumored Galaxy Nexus launch on Verizon has obviously slipped its November 17th deadline, and things aren't looking too good for the 21st, either. Reports out of Droid-Life and Twitter user "Tech FanatiX" indicate that the new date might be… ugh… December 8th. DL is showing some sort of internal VErizon database, whereas Tech FanatiX appears to have an employee email or bulletin.
We've seen so many conflicting reports about the Galaxy Nexus' Verizon launch that we've stopped sending out every little bit of hearsay. The new dates seem likely, since Verizon doesn't seem very interested at all in promoting the phone at the moment – they'd probably prefer you to buy a branded DROID RAZR or HTC Rezound instead. That's small comfort to US citizens who've been waiting a month for the "November" release date. So far the only official word out of Verizon has been the sign up page, which didn't even have a photo of the device.
So, another three weeks to wait for the latest version of Android in Google's home country. Thanks a lot, Verizon – it's beginning to become apparent why they didn't have any Nexus phones before now. Settle in folks: unless you'd like to import an international version of the Galaxy Nexus for use on T-Mobile or AT&T, it looks like you're stuck for the moment.
[device id=1740]