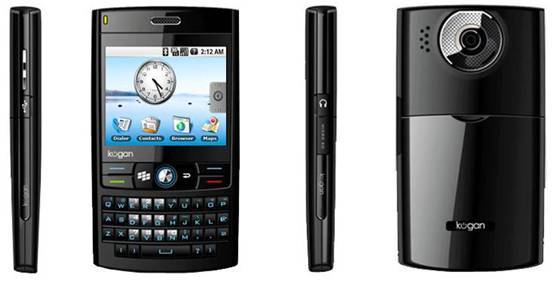 We are very surprised to see that the latest Android-powered handset to come to market is not coming from China, but in fact from Australia. We are very excited to hear that the Kogan Agora Pro is available for international pre-order. More details after the jump.
For $399 you will be getting a business-like Android smartphone fully equipped with a 2.5-inch resistive touchscreen, 3G data network and full QWERTY keyboard. Taking a good long look at what customers want at a price they can afford, Kogan has managed to deliver a very beautiful handset. This smartphone has GPS, 624 MHz processor, 128 MB RAM, 2-megapixel camera and Wi-Fi.
If $399 is a little bit more than you would like to spend you can go with the cheaper $299 version. This cheaper version lacks some big features such as Wi-Fi, GPS and the 2-megapixel camera. The Agora is available to anyone without a contract no matter where they are located. Hurry and pre-order yours now and your Agora will be shipped January 29th.
MELBOURNE, Thursday 4th December 2008 – Kogan Technologies today unveiled the Kogan Agora, the first Australian mobile phone powered by the Android™ operating system.

Kogan Technologies will sell the Agora for AU$299 and the Agora Pro for AU$399. Both models are available for sale today on www.kogan.com.au. The phones are sold outright – with no contract – and will work on any network.

The Kogan Agora (AU$299) features a full QWERTY keyboard, central navigation key, 2.5" touchscreen, microSD slot, and 3G connectivity.

The Kogan Agora Pro (AU$399) adds a 2 MP camera, Wi-Fi, and GPS to the Agora's impressive specifications.

Both models will ship to customers – in Australia and internationally – on January 29th 2009.

Kogan Technologies founder, Ruslan Kogan, said the Agora is proof that his company is achieving its goal of offering the latest technology at the best value prices.

"The Kogan team have been working very hard to bring out the exciting new phones powered by Google's Android operating system at the right mix of price and specifications," Kogan said.

"We've been listening to customers through our blog, and crammed in all the features we possibly could. The end result is the best value, fully-featured phone in the Australian market.

"We worked closely with manufacturers and vendors to develop drivers, software, and tweaks to make the Agora an intuitive and exciting experience for everyone.

"The design and features of the Kogan Agora makes the phone appeal to both consumers and business users.

"The Android operating system means the handset can capture and play music, photos and video, surf the web, play games, navigate, and organise your life with extremely powerful applications."

Kogan has been a long time supporter of open source and Android™ provides a real alternative to Apple's proprietary operating system for the iPhone.

"Google is a key player in developing efficient and innovative online solutions for customers around the world. The open source nature of Android means the operating system will continually improve over time," Kogan said.

Some of the applications pre-loaded on the Kogan Agora are:

· Gmail™
· Google Search™
· Google Calender™
· Google Maps™
· Google Talk™
· YouTube™

HIGHLIGHTS:
· 2.5-inch TFT-LCD flat touch-sensitive screen
· Integrated QWERTY keyboard
· High-speed 3G network connection
· One-Touch Google Search ™
· Easy Web Browsing
· Easy-to-use email with attachment support for images, videos, music and documents
· Customisable Home Screen with instant Email, text message and IM notifications
· Instant access to mobile Internet services (Gmail ™, YouTube ™, Google Talk ™, Google Calendar ™, Google Maps ™)
· Music Player
· microSD™ expansion slot for all your storage needs
· Wi-Fi network access (included with Kogan Agora Pro)
· GPS navigation capability (included with Kogan Agora Pro)
· 2.0 megapixel camera (included with Kogan Agora Pro)

SPECIFICATIONS:

Operating System
Android™
Google Mobile Functions
Google Search™, Gmail™, YouTube™, Google Maps™, Google Talk™, Google Calendar™.
Display
2.5-inch TFT-LCD flat touch-sensitive screen with 262K QVGA (320 X 240 pixel) resolution
Device Control
Central Navigation Key
Keyboard
QWERTY keyboard
Keyboard backlighting
GPS
GPS navigation capability (included with Kogan Agora Pro)
Connectivity
Bluetooth® 2.0 with Enhanced Data Rate
Wi-Fi®: IEEE 802.11b/g (included with Kogan Agora Pro)
Camera
2.0 megapixel colour camera (included with Kogan Agora Pro)
Audio
Built-in microphone and speaker
Headphone jack
Ring tone formats:
· MIDI, MP3, WMA, AAC, WAV, PCM
Video
Video formats supported:
· MPEG2 H263, H264, MPEG4, AVI
Mail attachment support

Viewable document types:
· JPEG, GIF, WBMP, MIDI, AMR, MP3, WAV
Dimensions (HxWxD)
108 mm x 64 mm x 14.8 mm
Weight
130g
Battery
Rechargeable Lithium-ion battery
Capacity: 1300 mAh
Talk Time
Up to approximately 400 minutes
Standby Time
Up to approximately 300 hours
Processor MHz
624 MHz
Memory
ROM:
256 MB
RAM:
128 MB

microSD™ card expansion slot
Network

UMTS/HSDPA (850, 1900, 2100 MHz)
GSM/EDGE (850, 900, 1800, 1900 MHz)

Other than as described in this release, Kogan and its products, are not affiliated with Google Inc or its products. Google™, Android™, Google Search™, Gmail™, YouTube™, Google Maps™, Google Talk™, Google Calendar™ are trademarks of Google Inc. Use of these trademarks is subject to Google Permissions.

About Kogan Technologies
Kogan Technologies is a wholly-owned Australian company established in 2006 by entrepreneur Ruslan Kogan. Kogan sells a wide range of consumer electronics in Australia, New Zealand, and around the world. The Kogan promise is based on a unique business model that passes the savings of dealing direct with the manufacturers onto Australian consumers. Bypassing middlemen, Kogan is able to offer the latest technology at the most affordable prices. Kogan's unique blend of quality technology and value for money offers price-conscious Australian technology consumers a real choice.