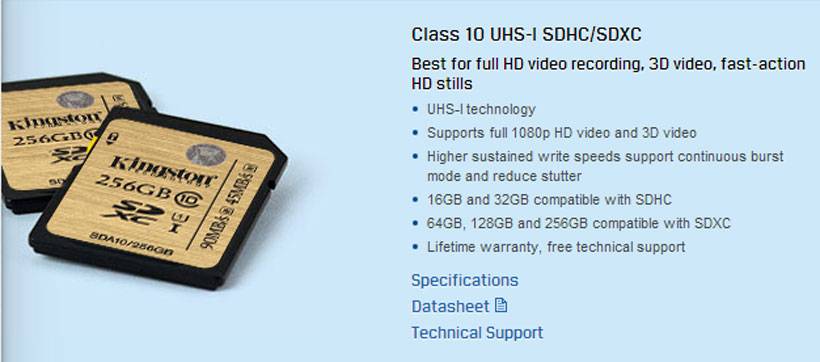 No matter what brand of Android device you are using, one thing they have in common is memory card slots for expansion. Kingston is a big name in memory cards and the company has announced a new generation of memory cards that bring higher storage capacities to the table. Two memory card lines have been upgraded with more capacity including Class 10 UHS-I microSD cards and Class 10 UHS-I SDHC/SDXC cards.
The microSD card can now be had with up to 128GB of storage capacity. The new card is compatible with microSDHC and microSDXC devices. It also supports fast UHS-I speeds to make transferring files to and from the card faster.
The SDHC/SDXC card is available in capacities up to 256GB. The high capacity card has read speeds up to 90MB/s and write speed up to 45MB/s. The higher sustained write speed for the card allows burst photos to be shot without interruption.
The higher capacity supports RAW files and large JPEG files. Pricing on the new cards is unannounced at this time, but they won't be cheap. "Kingston Technology is proud to launch these new high-capacity and high-speed memory cards," said Jean Wong, Flash memory business manager, Kingston®. "In a world where most users carry around more data than ever before on mobile devices, the larger capacities and faster speeds help ensure that customers have the best possible solutions available to them to streamline their mobile lives."
SOURCE: Kingston