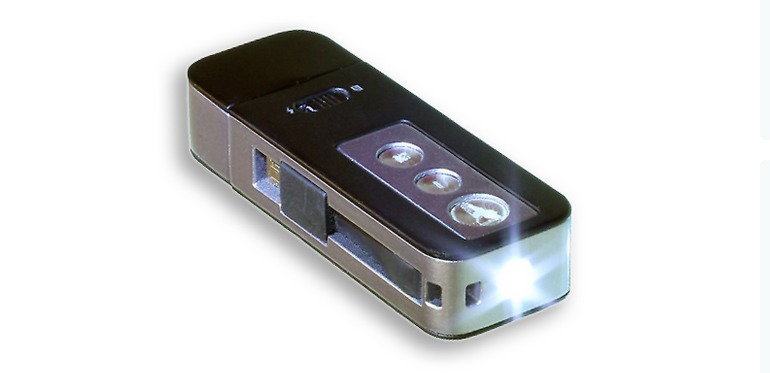 A new external smartphone battery charger has emerged onto Kickstarter and it's fully functional. Think of it like your personal swiss army knife, but instead of having multiple physical tools which perform different tasks, you have a mechanical flashlight and buttons that operate as different phone functions via the KiiTag2 app. The KiiTAG2 acts an external memory card, with multiple charging head tips for different phones, and a key finding feature.
The device is neat in a sense that you get to program the 2 on-board buttons to phone functions for Android and iOs smartphones. The two buttons are referred to as "button A" and "button B". Pressing any of the two buttons once – will shortcut you to the programed functionality. Pressing any of the two buttons twice – will shortcut you to another program functionality. You can store up to 4 different phone functionality on the KiiTAG2. If you ever happen to be in a pickle or just need an excuse to step away, the charging device will be your wingman. Some cool features include: Fake Phone Call, Remote Phone Answer, Auto Messenger, voice recording, camera snap button, along with other numerous features.
The physical design of this charging device is a plastic case. Inside, you'll find a lithium battery, Bluetooth & OTG memory module, shortcut key buttons. a microUSB for Android or an iPhone lightning connecting charger, and the key finder feature. All phone features interact through the device and smartphone are connected via Bluetooth.
The design concept has a unique approach towards an external battery charger. With so many out there in the competition, its hard to stick out, but this small slim device looks like it can compete with the big dogs. The crowdfunding project has 59 days to go with a goal of $20,000. So far the project has reached over $2,500 with 59 days to go. Its still a semi-early start so we hope to see this project really take off, as it does have promising features. Make a pledge for $40 and you'll be receiving an 8GB KiiTAG2 when the product expects to ship May 2015.
SOURCE: Kickstarter