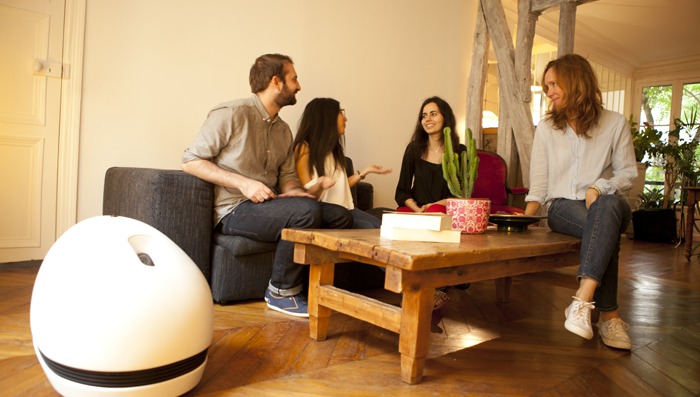 Remember those sci-fi movies (okay, we meant The Jetsons) where you could project things on the wall from a robot-like pod that followed you around? Well, it seems like the future has arrived. Sort of. The Keecker calls itself the very first true HomePod and it is a portable projector, entertainment system, home computer, instant museum/gallery and even security system, all in just one 16″ tall pod that you can control with just your smartphone.
Oh the things we can do with this new toy! If you have a house that has many smooth walls, then you can use the Keecker to project movies, TV shows, and games anywhere you want. And it already has a built-in 360-degree surround sound system, so no need to use any external speakers. And if your walls have no design or wallpapers, you can also use it to project artwork or landscapes when you're having a party. If you need to draw something for a client pitch, you can also use it to project a larger canvas.
If you're not at home, Keecker can also serve as a security system, well at least to check the temperature, noise levels, unusual movements, and heck, you can even look in on your pet as well. It's not really a robot, but it can act like a remote-controlled one that is capable of projecting a 40 foot screen when placed 2 feet away from the wall. Aren't you looking forward to playing Minecraft on that big of a screen? And yes, you can install any of the apps from the Google Play Store on the pod, even if it comes with built-in apps as well.
The developers have already more than met their $100,000 goal on Kickstarter, but you still have 22 days to go if you want to back them up. If you were a super early bird, you could have gotten the Keecker for as low as $1990, but there isn't any word yet as to how much this will retail. They expect to ship by April next year and we can't wait to see what kind of impact it will create in the market.
SOURCE: Kickstarter