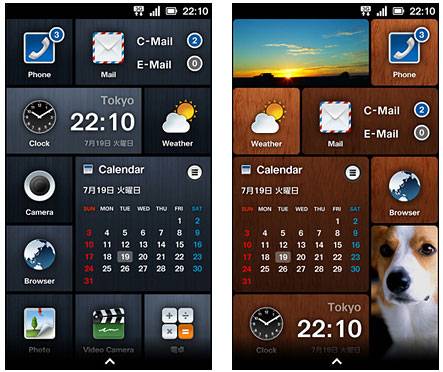 One of the things that many Android phone makers use to set their smartphones apart of the pack is a custom UI. A nice custom UI can make the phone easier to use and more attractive, but the UI can slow down updates too since it may need tweaking after an Android update is offered. Two Japanese carriers have offered a look at their future UIs for Android devices and KDDI has offered up some specs on one of the Android devices that might pack the slick looking UI.
The KDDI smartphone is called the Infobar and it runs Android 2.3. It also has many other features with IR communications and a 1seg TV tuner that will work outside of Japan. The camera on the smartphone is an 8.05MP unit and the display is 3.7-inches. It has a data folder capacity of 1.1GB and content is saved to microSD cards up to 32GB. The phone measures 63x118x11.8mm and weighs 113g. The interface for that Infobar phone is what you see in the photos above, and it's sexy.
The DoCoMo Palette interface is nice looking, but nowhere near as polished looking as the KDDI offering. The Palette interface from DoCoMo has many tabs that can be opened to access different things and then a pinch gesture closes the tabs. You can see the UI in action in the video below. It's cool to see this carrier reskinning Android for good looks and usability, I just hope it doesn't delay updates excessively as a byproduct.
https://www.youtube.com/watch?v=SrPgYiVTDKY
[KDDI via twitter]