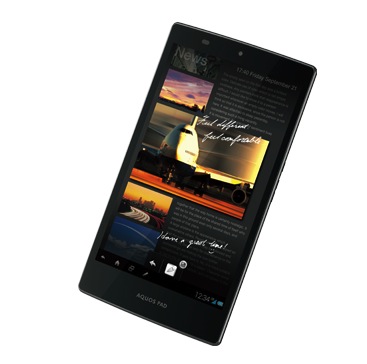 Sharp's new screen technology called IGZO has made a lot of noise because of the improved battery life it claims to offer. Now, a second device featuring this screen has been announced, and this time it comes in the form of the KDDI AQUOS Pad SHT21, a 7-inch tablet. It features a 1280 x 800 screen resolution, and according to Sharp, has 2.5x the battery life of similar tablets.


Sharps IGZO display is named after the indium gallium zinc oxide used in the LCD. Traditional LCD displays rely on amorphous silicon layer for their screens. According the Sharp, the technology in its screens allow up to 40x more electron mobility. This, in turn, allows pixels to be smaller and therefore, require less backlight and power to run.
Device creators can go a few different ways using this technology. They can keep standard battery lives while making devices smaller, add extra life to regular sized batteries, or create super bright screens designed for outdoor use. With the AQUOS Pad SHT21, it appears as though there is an option for extended usability or an ultra bright screen, depending on your preferences.
The tablet supports 4G, WiFi a/b/g/n (2.4/5GHz), Bluetooth 4.0, and 1-Seg digital TV for connectivity. It is water and dust proof and comes in at an impressive 280g. It has an 8-megapixel rear-facing camera and VGA camera in the front. It runs a customized version of Android 4.0 and has a Qualcomm's MSM8960 1.5GHz dualcore processor. It also features 1GB of RAM and 16GB of internal storage with support for microSDXC. The device drops in Japan in December, but a price is not yet know.
[via SlashGear]