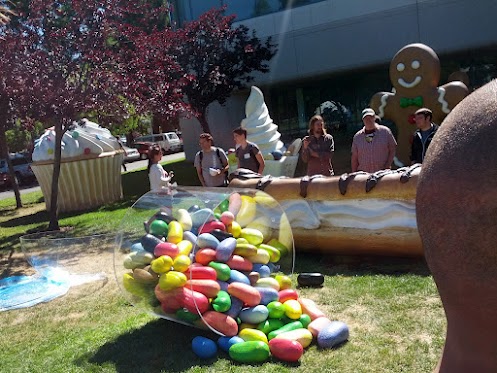 Guess what just arrived at the Googleplex? It's finally official, as if we didn't know it was going to be the actual name of the next iteration of Android anyways. Android 4.1 Jelly Bean is a go, and Google has just added it to the Googleplex building 44 lawn as expected. Doesn't it look wonderful?
Apparently the Gingerbread statue kicked over the cup of Jelly Beans and they've spilled out onto the sacred Google lawn. With Google I/O starting tomorrow (and me headed there as we speak) we'll be learning tons about Android 4.1 Jelly Bean, the Nexus Tablet (hopefully), and all sorts of other goodies from the folks at Google.
Just like all the previous versions of Android before it, Google has confirmed the next version with the iconic statue taking its precious place at Google's Mountain View HQ — known as building 44. We'll be at I/O live to capture all the details early tomorrow morning where we expect them to officially unveil Jelly Bean. Stay tuned for more details and hit the source below to join in on the Jelly Bean conversation over at Google+.
UPDATE: It appears that what we saw earlier was just one piece of the much more full status in the end – and it might not even be complete now! This sculpture has been being updated throughout the day, and as Google's Louis Gray shows in the couple extra photos you see in the gallery above, this update may well be a much more "full" Android than we've ever seen before!
[via Google+]