Mobile payment solutions don't have a needed standard, or even a real market leader. Isis, the payment solution spearheaded by Verizon, wants to be that frontrunner. Like all others, it's seeing implementation issues, but a new offer for Wells Fargo customers may entice users to try it out.

For a limited time, Isis is offering Wells Fargo cardholders "up to $300" to use the service. Just for signing up, Isis will give Wells Fargo card holders $20 in account credit. From there, joint customers will receive 20% cash back in "statement credits" on Isis purchases. The cash back offer is good through the end of April, 2014.
To ensure users don't just go wild for a month and drop the service, Isis has a stopgap in place. The rewards are only good up to $100 each month, meaning you'll have to use the service for the full three months to take full advantage. That's an interesting wrinkle to the solution, but we wonder just how well it will work out.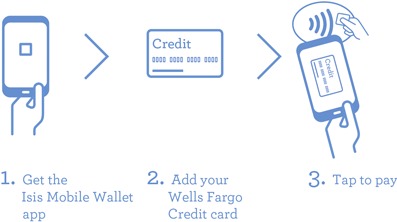 Isis, like so many other mobile pyment solutions, is having a tough time with finding point-of-sale terminals. With so many offerings, including Google Wallet, widespread adoption has not been met. Isis is only available natively on about 50 phones through T-Mobile, AT&T, and Verizon. From limited device adoption to a slow implementation by retailers, Isis is not the ubiquitous payment solution many had hoped for. A deal like this may entice some to jump on-board, though.
Source: Wells Fargo
VIA: Phone Scoop