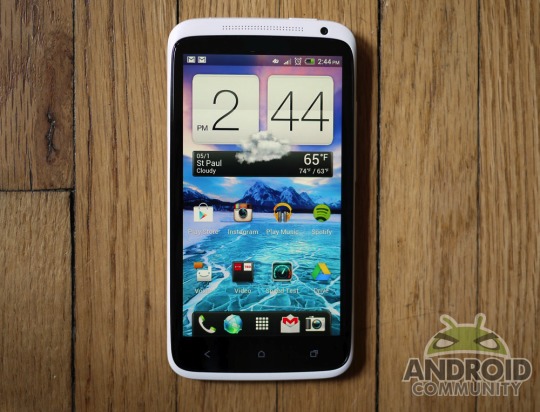 Just like the AT&T HTC One X received earlier this week, the international model is getting an over the air update today that should make many users happy. Along with improving the OS to Android 4.0.4 Ice Cream Sandwich, you also get a much needed change to the menu and multitasking button. This will help remove the large black bar present for the "menu" button on Sense UI.
HTC has formally announced the update today, and mention multiple other enhancements and fixes specific to HTC Sense UI, as well as Android as a whole. With 4.0.4 the camera has been improved, browser has received enhancements, and they've added tons of stability tweaks. Here's what HTC had to say regarding that menu button:
The primary update will include an upgrade to Android version 4.0.4 (Ice Cream Sandwich), in addition to an improved Sense experience which will: enable the ability to map menu function to the 'recent app' key (improving visual presentation in non ICS apps like Facebook)
What this means is the two square looking multitask button can now be used as the "menu" button for Android too. You can enable it in settings, and long pressing that will bring up any menu options now that many are on-screen with Android 4.0 ICS and above. After the update head to Settings > Display > Gestures and Buttons to change how you'd like the multitask and legacy menu button to operate. This is basically just an added option for those two don't like the current implementation.
We can expect this same update to be arriving for the HTC One S and other Sense 4.0 devices in the coming weeks, but today it's available right now for the international HTC One X. Be sure to check for updates as usual, or just wait for the notification and enjoy.
[device id=2318]
[via SlashGear]