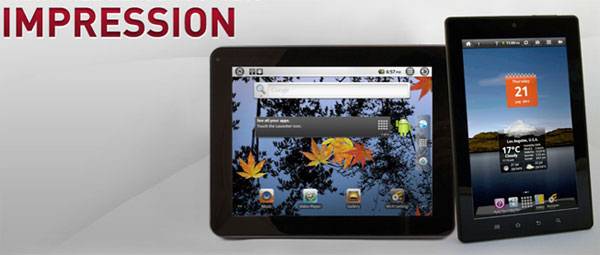 I know what you are going to say when you read the specs of the Impression 7 tablet or i7. OMG, that thing runs Froyo?! Yeah it runs Froyo, but if you are in the market for a cheap Android tablet that you can use for someone just starting or a kid, the i7 might be just the ticket. It's cheaper than the Kindle Fire by $20 with a price of $179.
It packs in a 7-inch TFT resistive screen with a resolution of 800 x 480. It has a 1GHz processor, 512MB of RAM, and runs Android 2.2 as mentioned. It packs in WiFi, 4GB of storage, and a G-sensor along with a pair of USB ports. It also has a microSD card slot with up to 16GB support. The camera is only 0.3MP, presumably a front camera.
If you want something larger you can get a 10-inch version for $349, but that will be a harder sell if it packs similar hardware inside. Availability is set for early November so they should land very near the Kindle Fire. I think I would pay the extra $20 and go with the Fire. What about you, which tablet would you rather have?
[via BGR]