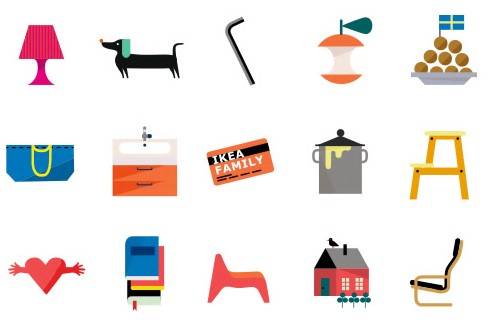 If you live with other people in a house or apartment or room, whether it's family members, spouses and partners, or just college roommates, chances are you've had at least one misunderstanding because of misplaced items, chores that have been left undone, and other housekeeping related mishaps. Swedish furniture stalwarts Ikea believes that if you just had the right communication tool, those fights could be kept to a minimum. Their solution? There's always an app for that.
The last thing you would expect Ikea is to launch an emoticons app, but that's exactly what they did. Simply called Ikea Emoticons, it's riding on a trend that sees people communicate through these pictorial representations of emotions, and in this case, household items. In a move that's full of humor but also very marketing savvy, the brand that has been known for its minimalist, ready-to-assemble household items, is entering the app realm by creating something that is silly, fun, but also connected to their aesthetic.
The app has emoticons like shoes, lamps, beds, clothes strewn on the floor, kitchen items, even their famous Swedish meatballs. Anything that you can associate with their brand, household chores, and household items can be found in the app and will supposedly make you not fight with your loved ones whenever there are some issues on orderliness or cleanliness (of course, not really, but hey, it might help diffuse the tension).
You can download Ikea Emoticons from the Google Play Store for free with no in-app purchases needed. Simply install it, pull down the notification center to look for the emoticons, and start inserting it into your conversations. Let us know if your household will finally be peaceful because of this app.
SOURCE: Ikea