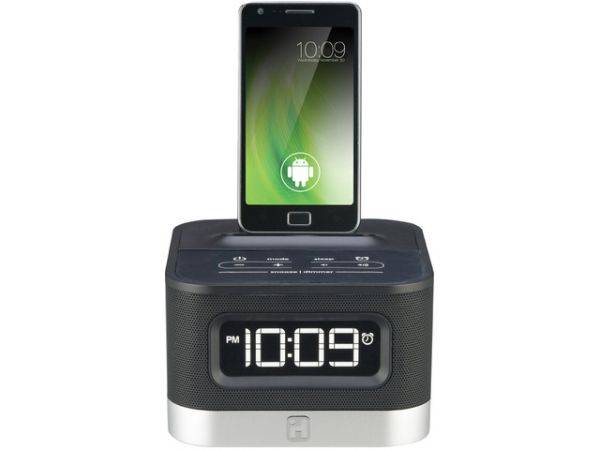 Most of us by now have heard of the company iHome, and their broad selection of iPod based music systems. Well, having heard the call and seen the desire of the Android fans, they have responded. Releasing three models that are designed to work with most Android based phones. Giving you the same options and sound that only the Apple fanboys had access to previously.
Starting with a compact unit that includes a clock and FM radio, the IC50 has a unique feature that allows it to work with the many positions of the micro USB port on the Android phones. Their solution is to use a sliding dock that will allow you to center up the phone on the stand to provide a stable mount. This is something that they had not had to deal with previously with the Apple devices. Though it may be small, the IC50 still can crank out some good tunes with their EXB bass enhancement tuning to get the most out of its size. And with the FM radio, and alarm clock you can set it up to wake you with either your phone music, the radio or the classic beeping noise we all grew up with.
The next offering is a small wedge shape stand they call the iC3 that also provides the the sliding USB option so that you can use a wide range of phones as well as some tablets. Though lacking the radio and clock features, it is still capable of providing you the ability to charge your device and give you excellent sound quality. With their Reson8 technology incorporated into the stand, you should be able to get surprising bass from this device as well.
The last accessory they will be introducing has not made its presence yet, but should be available sometime this summer. It will be called the iC16 and is expected to provide an alarm clock and also the ability to be portable. At the same time it is going to be able to charge your phones. With the option of being portable we might expect a lighter device and styling to make it easier to carry yet still give you the functionality we expect from iHome.
Hopefully with these new Android based devices coming out from a company as big as iHome, we could expect to see more and more options for the Android fans from them as well as other companies. No doubt the others will wait to see how well they sell, but if they take off, the one paving the way should also be the winner. As a side note, both of these stands were shown on the iHome web page but were taken down within hours of going up. However they are both still available from Amazon.com with the iC50 coming in at $49.99 and the iC3 for $39.99. The projected price of the soon to be available iC16 should be $59.99.
[via Android Authority]