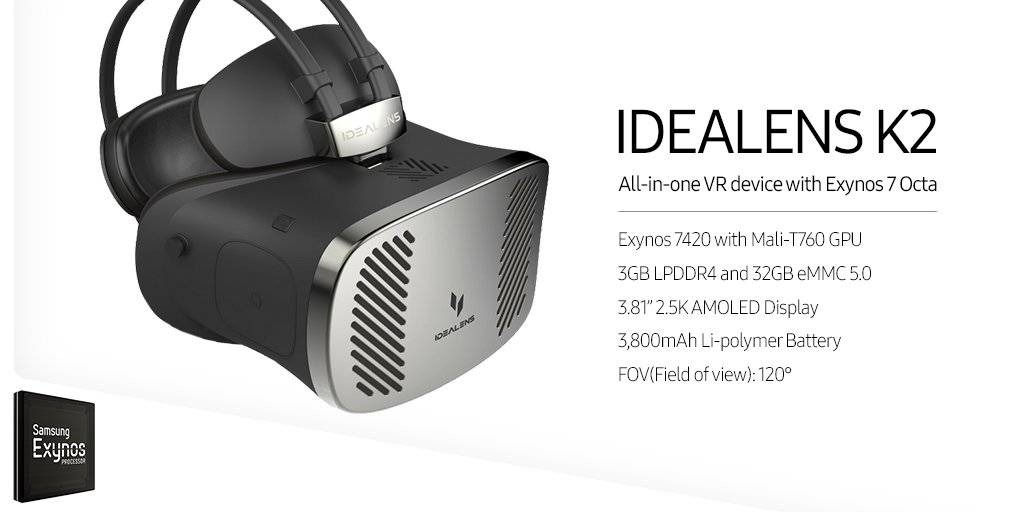 IDEALENS is a China-based tech company that launched one of the first standalone virtual reality (VR) headsets we've seen, or not seen, depending on where you are in the world. Understandably, most people will not know about the company offhand, but not they're trying to change that with the IDEALENS K2, the outfit's second generation standalone VR headset that's got the right stuff under the hood.
When IDEALENS came out with their first VR headset, the VR bandwagon was still very small at that point. The VR industry has gathered momentum during the past two years and judging from the coverage VR devices have, it's probably a good assumption that IDEALENS will get better visibility this time with the IDEALENS K2 – an Android-powered standalone VR headset powered by Samsung's Exynos chipsets.
It's powered by an Exynos 7420, to be more specific, the processors found inside last year's Samsung Galaxy S6 and S6 edge. It's sporting a 3.81-inch 2.5K AMOLED display that boasts of a staggering 771ppi pixel density, something that most VR headsets will not be able to beat at this time. The grahics are being run by a Mali-T760 GPU running the screen at a high 90Hz refresh rate. The IDEALENS K2 is also supported by 3GB RAM and 32GB internal storage, connects to the internet via WiFi.
The IDEALENS K2 is powered by a 3,800mAh battery and weighs in at around 295 grams. For comparison, the Oculus Rift weighs around 470 grams. Everything runs under Android, although we don't have an idea what version yet. IDEALENS is set to launch a 4G version which would be powered by a more robust Exynos 8890 processor soon.
VIA: @SamsungExynos