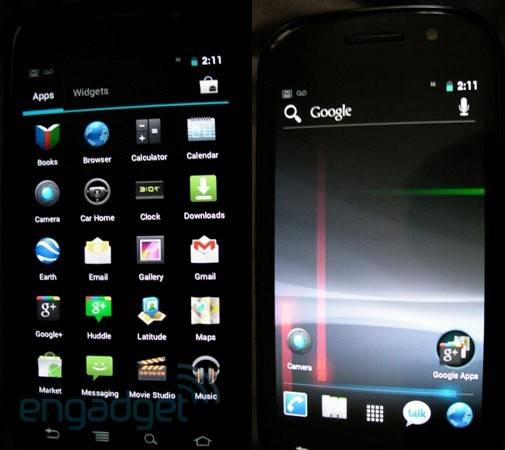 Whoa, look what we have here folks. Thanks to an anonymous tipster that was lucky enough to snag a Google Nexus S on eBay we have our first look at Android Ice Cream Sandwich on video — awesome. Yes this is a real look at Android 2.4 (or 4.0) Ice Cream Sandwich. Some users are already reporting the video to not be showing up so I've nicely snagged a few screenshots thanks to Engadget. Check out Android Ice Cream Sandwich
Apparently a lucky man ordered a Nexus S on ebay and when it arrived this little tasty cold Ice Cream treat was what he found. The firmware appears to be operating on the same basebands as previous leaks, but it's running on an updated build (IRK48) and kernel (3.0.1). We see the lock screen, the lock screen animation, widgets, menu's and basically everything else you'd love to see. Hopefully the video remains up, but for now here are some pictures just in case.
We see a lot of Gingerbread here, and bits of Honeycomb. With the notification pulldown bar looking very simple and clean we have the same icon for "settings" as found on Honeycomb tablets. We'll break all this down shortly but for now here are the photos for you to drool over.
[viddler id=e3aea318&w=545&h=347]
[via Engadget]