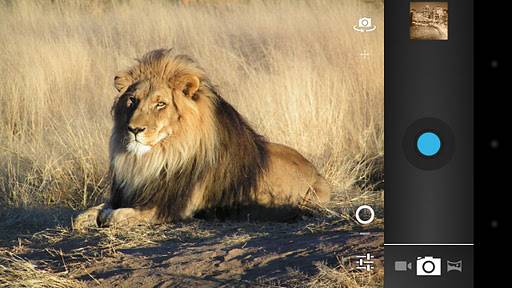 One of the more publicized parts of the Galaxy Nexus is its new-and-improved camera app, which allows for both fast shots and integrated photo editing. While the actual camera hardware failed to wow us in our review, the software itself is enviable, and a good reason to patiently wait for an Ice Cream Sandwich update (or, like us, root your phone or tablet and get it yourself). Now there's a new alternative for those who have just gotta have that awesome camera: Camera ICS, a free ad-supported download in the Android Market.
But there's a hitch in the process. You shouldn't buy this app. All the developer has done is repackage the Ice Cream Sandwich camera app from Android's open source code and posted it on the Market. You can't even access all of the features without having Android 4.0, somewhat defeating the purpose. Add to all this that the developer is sort of stealing Google's content – it's open source, yes, and there's nothing illegal about redistributing it, or putting ads on it (or loading up a "premium" version for the low introductory price of a dollar). But it still strikes us as dishonest.
If you feel like a dollar and/or ads is a fair price to pay for something that's free but hard to get to, go for it. But we recommend asking your friendly neighborhood Android dev to repackage the ICS camera for you – maybe even send them a couple of bucks for their trouble. Even if you don't personally, someone will have another, similar app up on the Market before too long – with a truly free price tag.