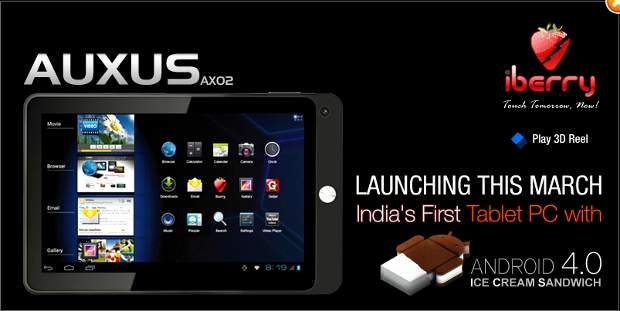 The iBerry Auxus will be India's first tablet with Android 4.0 (Ice Cream Sandwich) onboard. It's best selling point is of course the price; for 10,000 rupees (~$200 USD), you'll be able to purchase the 7″ model. There is a 10″ available, but no price estimate is currently available.
It carries a 1GHz processor with 1GB of DDR2 RAM, and even offers an HDMI out. The 7″ will have an 800×480 resolution, and yes – it's capacitive, not resistive. The microSD slot is capable of expanding your storage by up to 32GB, and has a miniUSB output. It will not only charge the device, but also support external flash storage.
The Auxus will hit stores in India next month – both online and at retail outlets across the country. Every purchase comes with a 1 year comprehensive warranty; something you don't see too often in cheaper tablets. Upon device malfunction, iBerry will have an agent come to your house and pick up the device for repairs. Too bad we don't see this kind of service included in every warranty.
[via theMobileIndian]