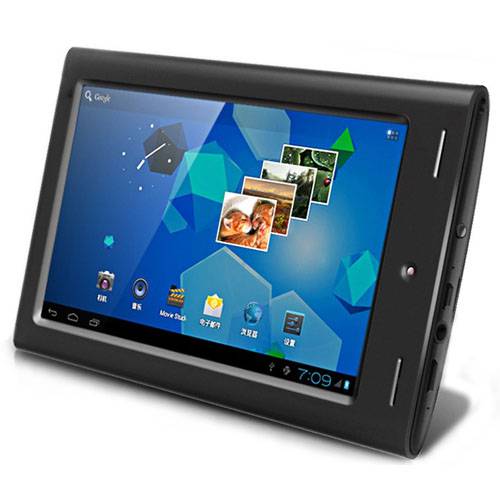 We've seen more then our share of cheap knockoff Android tablets but this one has fairly decent hardware. Most likely this is similar to those knockoffs and actually doesn't have any affiliation with Hyundai the car company. What you do get though for a quick $110 is a 7″ 480 x 800 resolution Android 4.0 Ice Cream Sandwich tablet. The screen is capacitive touch and has 5-point multitouch. Read on for more details.
Now what exactly does your $110 dollars get you? A 7″ tablet that should run most games and apps quite decent with a 1.5 GHz Cortex-A8 processor, just not from any brands we know. It also comes with 512MB of RAM, 8GB of internal storage and room for more. The A7 has micro-HDMI out for gaming or watching movies on a big screen, and supports micro-SD for extra storage.
It might not be the prettiest tablet around but the screen is capacitive (as in not a cheap resistive screen you have to pounce on) and it runs the latest and greatest from Google. Android 4.0 Ice Cream Sandwich. The tablet has been available for a little over a month already but has recently landed in-stock again so was worth a quick shout out. Mostly likely this will feel like another cheap Chinese knock-off tablet but for $110 coming with a 1.5 GHz processor and Ice Cream Sandwich it's worth a quick look.
If you have one feel free to comment below, and if you pick one up we'd love to hear your thoughts. Get it today from the link below with free shipping to the US.
[via Focalprice]