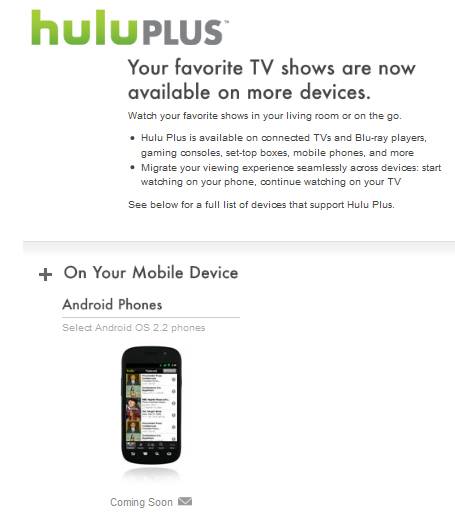 Hulu has quietly leaked on their website that their popular subscription streaming TV service will join it's trifecta of Apple platforms with Android access to select OS 2.2 (Froyo) phones. There's no word on which specific handsets are supported, and frankly, does it really matter? If the phone runs Froyo, why should it matter? Well, it may be that the term "select" is to insulate Hulu from the root community out there which is placing Froyo and other Android OS flavors on older handsets.
The online TV and Video service carries a wide variety of first run and classic episodes of TV shows, often the day after they premiere on ABC, NBC, Fox and others. They also carry a wide selection of older movies. The service is obviously designed to go head to head with Netflix, which began offering streaming options back in 2009. And last November, they began offering access to the iPhone, iPad and iPod Touch through their Hulu+ App.
Originally created with free membership and the occasional commercial spot, Hulu developed Hulu+ as a way charge for premium content and also to keep Hollywood happy because, let's face it, they give nothing away for free. The Hulu service is $7.99 a month and there's a free one week trial. No word on when the service will be available on Android, but the fact that they've added an Android category with "coming soon" on it is certainly a good sign. But sadly, only in the US.
[via EMobile]