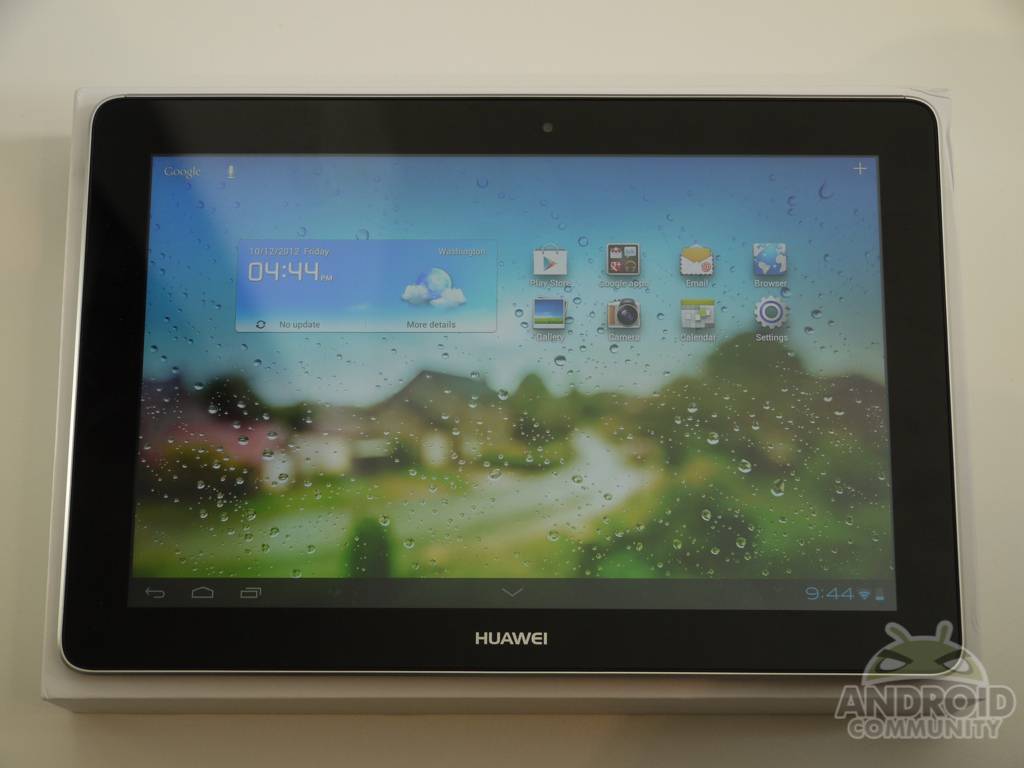 Today we have the newest tablet to grace the market from the folks at Huawei. This is their new flagship quad-core HD tablet, the MediaPad FHD. As the name implies, you have full 1920 x 1200 HD resolution on this 10-inch slate, rocking Huawei's own 1.4 GHz quad-core processor. Read on to see our initial thoughts and first impressions.
Huawei has been stepping it up as of late, and this tablet clearly shows that. While it isn't available in the US, it shows what their potential is in the hardware business as this is one of the best tablets on the market — at least on paper. Lets take a look at the Huawei MediaPad 10 FHD.
As for the spec sheet you'll get a 10-inch IPS+ full HD 1920 x 1200 resolution display, which is absolutely gorgeous. The colors are bright and vivid, the viewing angles are wide, and the high resolution screen just makes everything crisp and pop. We're actually really impressed with the display — even if the edges are a tiny bit loose around the aluminum bezel. Under the hood we have Android 4.0.4 Ice Cream Sandwich being powered by Huawei's own in-house quad-core processor at 1.4 GHz. No Qualcomm or NVIDIA here. They've equipped the slate with a capable 2GB of RAM, 16GB of internal storage, WiFi, Bluetooth, GSM/HSPA+ support, and of course a set of cameras.
Being just 8.8mm thick this is one of the thinnest tablets around — especially considering its internals. The rest includes 257x176x88mm in size, an 8 megapixel rear and 1.3 front camera, HDR options, 5.1 Dolby surround technology for awesome sound, and a 6,600 mAh battery under the hood. Weighing 580g it's certainly not the lightest tablet around either. As you can see from the pics above we have power/wake and volume up/down on the right edge, the 30 pin connector for charging and cutouts for the keyboard dock down below, and 3.5mm headphone jack on the left edge. Up top is occupied by a microphone and the micro-SD and SIM slots.
As you can see in the video above the hardware is rather excellent. We're really enjoying the hardware so far and must give Huawei props for the excellent display. There's also a slideshow or "screensaver" feature on the lockscreen that brings up some rather impressive artwork that pans every few seconds. Here's one of many that were amazing on that high resolution FHD IPS display — although I'd be worried about battery after a few hours.
Running an odd version of Android 4.0 Ice Cream Sandwich here. We have no app tray and everything is on the homescreen pages. Simply swipe to the right and you'll get everything installed, and you'll need to long press the screen to add widgets — sort of like Android of old. Nicely they've made it so you can hide the menu bar on bottom, and their slight changes to the menu give it some character. Being a quad-core 1.4 GHz processor under the hood here's a few benchmark comparisons.
As you can see it trades blows with the quad-core powered Transformer Prime and its NVIDIA Tegra 3, loses to the Galaxy S III's 1.4 GHz Samsung quad-core, but overall is handling its own pretty well. Between the quad-core under the hood and Android 4.0 ICS the experience is quite favorable. The hardware is excellent (although still has very minor build quality issues) and watching videos is a sight to see with this HD screen.
For now we'll reserve our detailed judgement for a full review coming early next week. Check out the equally impressive Huawei Ascend D Quad XL they've also recently released, then enjoy the rest of the photos below.
[device id=2647]