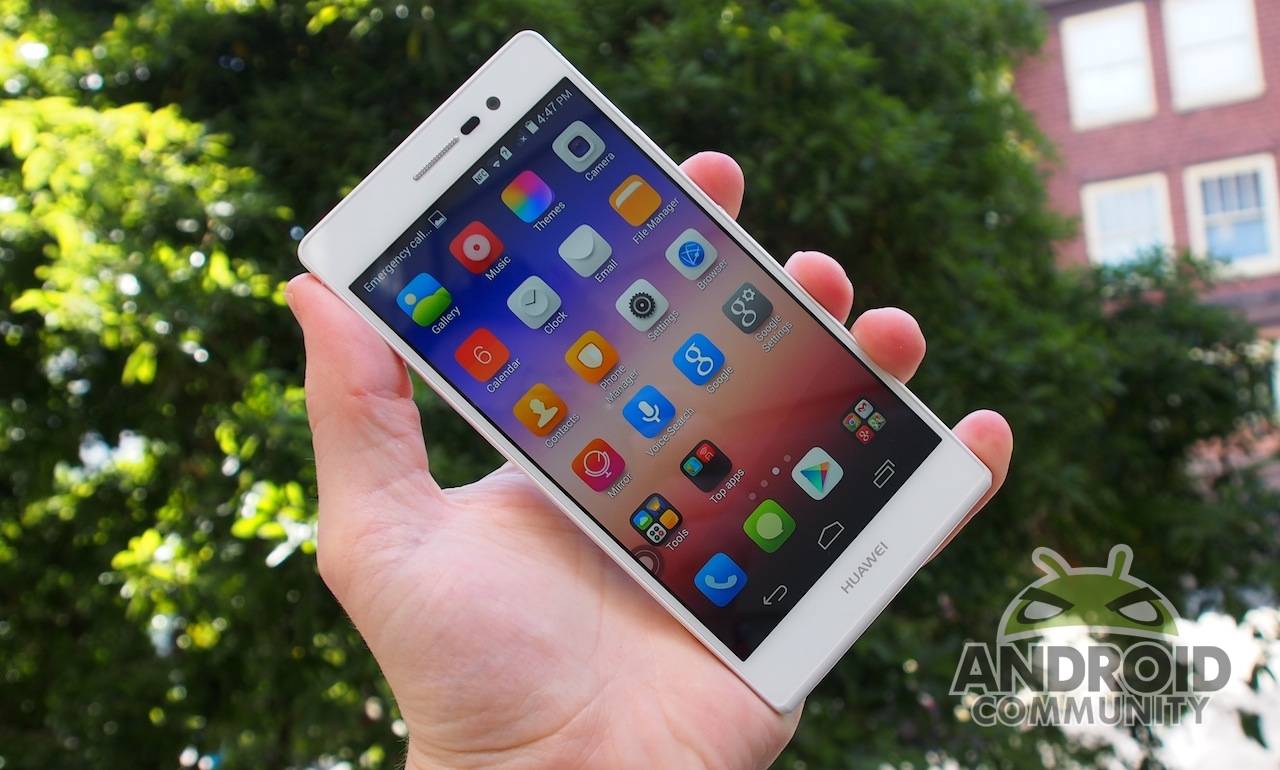 It would appear that Huawei has brought a smartphone to market with real potential to take on the big-guns in China. With the Huawei Ascend P7, the company brings a device that's not only able to take high-quality photos and video, it's able to present a top-notch display experience as well.
Hardware
Gorilla Glass 3 keeps both the front and the back of this smartphone strong, while a rim of aluminum keeps the whole build robust. Unlike some recent glass-heavy smartphones, this one is easy to grip – and it feels comfortable to hold, as well.
Huawei's 5-inch display means you're not going to be as comfortable holding this device with one hand as I was unless your hand is as big or bigger than mine. This phone is 5.5 x 2.7 x 0.25-inches large.
The camera on this device is what Huawei will end up really concentrating on in advertisements – with good reason. Up front you've got an 8-megapixel camera that takes some surprisingly excellent photos and video. The Ascend P7's front-facing camera comes out with quality better than many low-end phone's back-facing shooters, believe it or not.
Around the back you've got a 13-megapixel camera with single-LED flash that takes just as good or better photos and video as the front. Have a peek at our Camera section below to get a better grasp on what this means for the end user – you, that is.
Processing Power
With a HiSilicon Kirin 910T 1.8GHz quadcore chip rolling with Mali450 graphics, this device is bringing a rather unique combination of bits to the market. You'll have 2GB of RAM to work with, and every app we've tested has turned up working just as smooth as most higher-end smartphones from the past couple of years.
Benchmarks return mixed results, with the Huawei Ascend P7 out-doing the lot of recent smartphones in some cases and falling well below smartphones released over the past year.
Benchmarks aren't everything, of course – we're still confident this device's processor can handle anything you'll be throwing at it. Loading apps might be quicker on a Samsung Galaxy S5, but once you're inside, it all comes out even.
Software
Huawei is not only releasing their Ascend P7 with the newest version of Android, they're releasing their own newest UI as well. The Huawei Ascend P7 works with Android 4.4 KitKat and Huawei Emotion UI 2.3.
If you enjoyed Nokia's MeeGo UI from yesteryear, you'll enjoy Emotion UI 2.3. This user interface is simple and makes with the square-edged icons throughout the phone, making the phone feel more like a single product than a jumbled mess.
The software team at Huawei have also replaced the settings screens with a setup that should be familiar to Emotion UI users, but new and simpler than before. Access to quick-settings and a far better bit of organization in base settings than in Emotion UI of the past, Ascend P7 works with the most user-friendly Emotion UI yet delivered.
A "Suspend button" sits at the lower left-hand side of your display with Emotion UI. This button launches a ring of quick-launch icons like calendar, messaging, and music. These apps launch in miniature form, floating above whatever other app you've got open.
There's also an easy mode you can launch which makes the phone friendly for grandpa. Up top you'll have the time and date or a calendar, below a number of app icons made 1/8 the size of the screen. Easy as pie to use, and not terrible to look at.
Camera
The back-facing 13-megapixel camera on the Huawei Ascend P7 works with a Sony 4th-generation BSI sensor. CMOS and Sony's high-powered camera setup here is paired with an f/2.0, 5-component lens as well as single-LED flash.
What's all that mean? It means this smartphone is packed with some of the finest camera components a smartphone has yet been delivered with. You don't have 4K video recording like some of Huawei's competitors, but 1080p Full HD video should more than suffice – when's the last time you needed a 4K video anyway?
We're hoping Huawei does away with the "Ultra Snapshot took only X seconds" banner that appears every time you take a photo -that's for certain. Right now it only serves to show off how long Huawei suggests the shot took or to annoy.
The resulting photos and video are quite excellent. Below you'll be able to have a peek at a gallery of images shot with the back-facing camera on the Huawei Ascend P7 in a variety of environments.
Up front you've got another 5-component lens working with an 8-megapixel sensor. This front-facing camera works with a number of particularly odd features.
One of these features is called "groufies." This is a Huawei-made word that combines the words "group" and "selfie," pushed to a feature which stitches three side-by-side photos together automatically for a larger photo.
There's a "beauty shot" in this collection as well, one that comes with a slider that will allow you to change your face from "beauty level: 0" to "Beauty level: 10" if you're feeling particularly homely. In reality this feature knocks out your details and smooths your skin to strange levels.
The front-facing camera on the Huawei Ascend P7 takes excellent photos. Photos taken with the front-facing camera on this phone are at least as nice as the main (back-facing) cameras on most phones we've reviewed lately.
Have a peek here at a number of sample shots taken with the front-facing camera on the Ascend P7. Let us know if you think the front-facing camera on your smartphone can do better.
Wrap-up
The Huawei Ascend P7 is the finest smartphone Huawei has made yet. It's capable of bringing the heat with a physical design that's sleek and appealing while the combined components present a smartphone ready to take on the best of the best.
Unfortunately this device will almost certainly be staying outside of the United States for its 2014 run. The good news is: Huawei will be bringing more devices to the United States sooner than later. Hopefully we'll be seeing more high-quality conglomerations like the Ascend P7 in the near future.