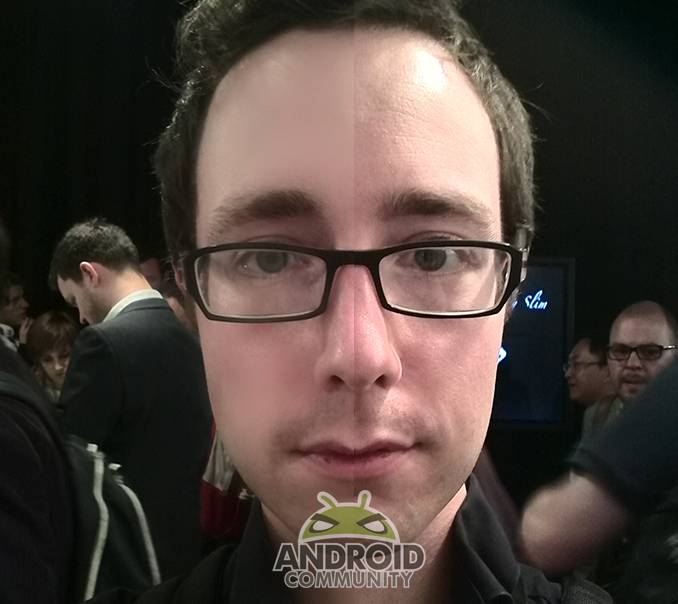 With Huawe's newest smartphone effort comes the newest edition of their "Emotion" user interface, this bringing with it their IMAGESmart software and a feature called "Beauty Shot." This feature comes with the Huawei Ascend P6 and has the ability to bring about, as Huawei notes, "instant facial beauty." What we've found, on the other hand, is that there's no two ways about it: this software changes the basic structure of your face and makes the user look… downright strange.
What you're seeing here is a demonstration of the Beauty Face effect at zero and at 10. This means that the image you're seeing that's a bit more rough – and real – is how a normal camera would take the photo. The other smoothed-out face oddity is what happens when Huawei's Beauty Face is allowed to run wild.
This is essentially what our model Chris Davies would look like if given an acid bath chemical peel, essentially. Now we'll be wanting to make sure we take lots of photos with this effect to see what the software things the most beauteous version of everything is. What if we turn Beauty Face on a dog? How about if we aim it at an international super-model (other than Chris, of course)?
This machine is working with an 8 megapixel camera on its back, by the way, while the front-facing shooter rings in at a hefty 5 megapixels. That's what Huawei is right to claim as "industry leading" – a 5 megapixel camera facing forward! In fact the photos in this post of Chris' face were taken with said camera, which – aside from Beauty Shot – should be impressive as anything. Stick around for more, and be sure to check out our full Huawei Ascend P6 hands-on experience as well!