Huawei has not been doing that bad at all with its devices. And with their flagships powered by their own silicon, they are reaping the financial rewards for manufacturing their own. And the Kirin processors are no pushovers as well, they are able to put out performance when needed. Huawei flagship devices are generally regarded as robust devices in their own right. So here comes the next generation of chips from Huawei – the Kirin 960.
The Kirin 960 chip has a hybrid octa-core processor in big.LITTLE architecture – four of ARM's new A73 cores at 2.4GHz and four A53 cores at 1.8GHz. The memory controller will take LPDDR4 1800 memory speeds, and there's the new high efficiency video codec (HEVC) encode and decode embedded. But the biggest upgrade is probably ARM's G71MP8 graphics chip, moving away from the Mali technology and name and bringing with it a bigger and faster GPU with double the number of shader cores.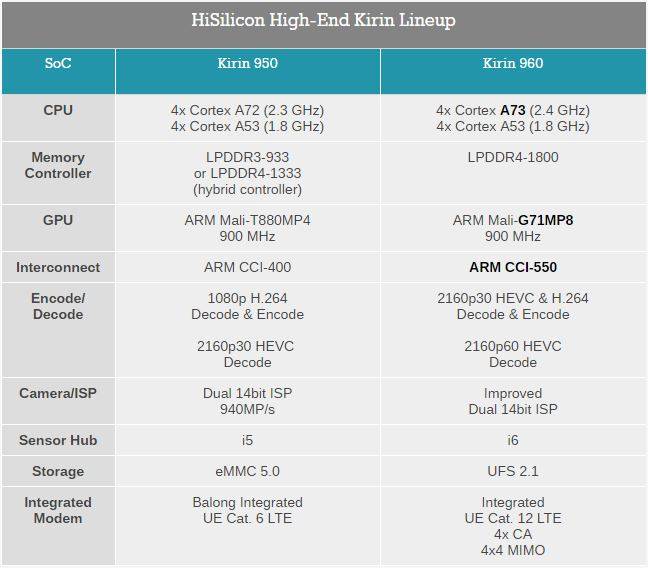 The Kirin chips are usually criticized for their lack of GPU power compared to its Qualcomm competitors, but the new G71 graphics chip should even the odds quite a bit. This improvement was probably a decision made to be able to compete with the bigger names in terms of virtual reality (VR) performance, where the older Mali GPUs really struggled.
We can expect the Kirin 960 to show up early next year, as is Huawei's usual schedule, at the Mobile World Congress in Barcelona around February 2017. This bump in performance is much needed, especially as Huawei's competitors are moving to more efficient 10nm chips by next year.
SOURCE: Anandtech