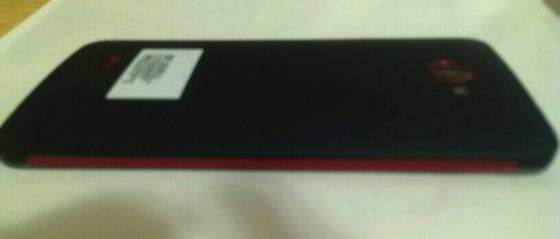 What a great way to round off the Labor Day weekend right? With a unique and mysterious HTC device that we know absolutely nothing about. These leaked images unearthed by The Verge appear to give us our first glance at HTC's upcoming 5-inch 1080p smartphone "phablet" to rival the Galaxy Note and the newly announced Galaxy Note II.
We have a few blurry cam photos as you see above and below, and that is sadly it. However there's been multiple leaks and benchmarks in the recent past hinting at and seemingly confirming HTC does indeed have a 5-inch smartphone with an odd 1794 × 1080p full HD display. The images leaked today are hopefully just that according to Chinese forum Phone HK.
Checking out the image of the rear we can clearly see this is a rather large smartphone. At least 4.7 or 5-inches in size, and we are inclined to think the latter after looking at an HTC One X. The previous reports have slated this device as headed for Verizon, which would also make sense given the fact they passed on the original HTC One series from earlier this year. The beautiful red color accents fit in perfect with Verizon and older HTC DROID devices, but the EVO line also has enjoyed a similar color infatuation.
What we can gather from the images is the device is quite large and will have either an 8 megapixel or higher camera on the rear with that massive lens. The Beats Audio branding is clearly present still, and on the front we still have capacitive buttons and no on-screen navigation keys — so that might explain the odd resolution.
Any guesses folks?