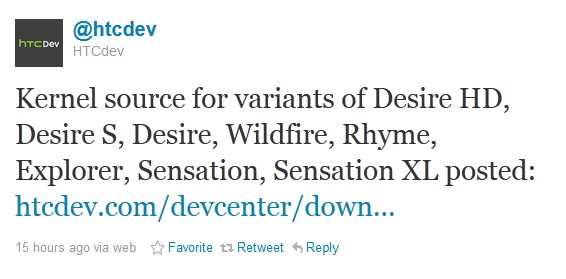 HTC is at it again today and have released the source code for many of their current and recently updates smartphones. It's nice to see that HTC is continuing to honor the GLP terms by offering these releases — although I'm sure many wish they'd offer them a little faster. The Sensation has been around for a while but at least we finally have access to the code now.
From the image above you can see they've released the code for many devices including the Sensation, Sensation XL, Desire HD, Desire S (Gingerbread builds), Rhyme, and a few others. Me being a proud owner of a Sensation I'm expecting a few awesome updates coming shortly from kernel builders and hackers alike.
As usual, average people don't have much use or need for these sorts of things but for all the Android enthusiasts, geeks, and kernel builders now is the time to start cranking out the good stuff. We should be seeing smoother and better performance from many custom ROM's once the source code tweaks make their way into custom builds and kernels.
Fun stuff — if you're in need of any of the above said code head to HTCdev.com to get started.
[via Twitter]