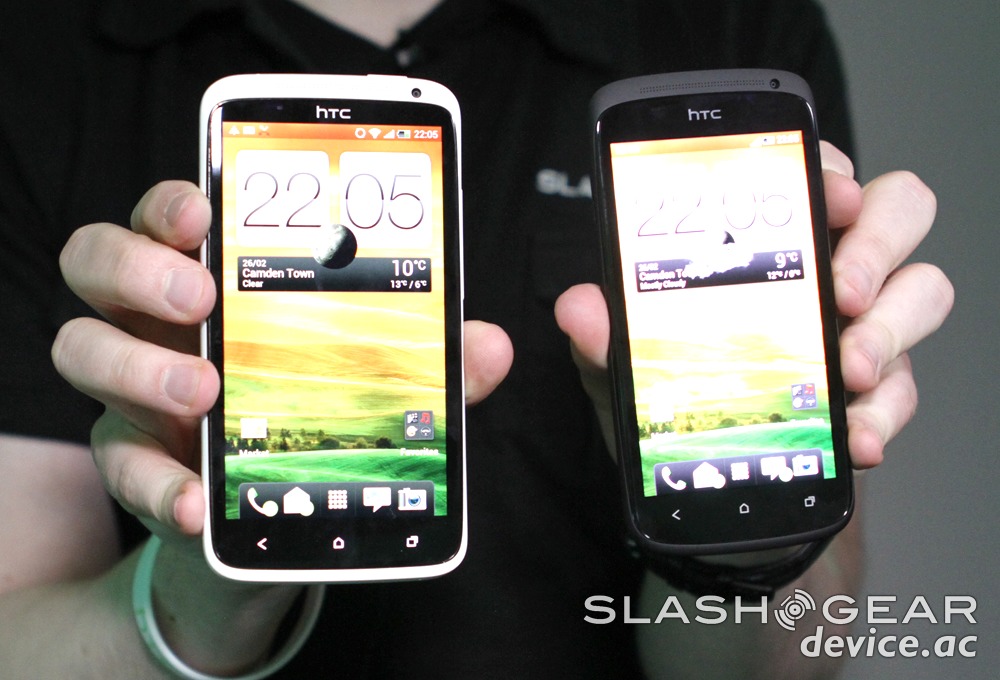 We've gotten our first glimpse and hands-on experience with the HTC One X here at MWC 2012 and with its 4.7-inch 720p HD Super LCD2 display, brand new stylish chassis, and no less than the NVIDIA Tegra 3 processor with 4-PLUS-1 cores under the hood, this is certainly the hero to beat. This line of devices under the HTC One flag are amongst the first in a very long time from this manufacturer to be working with a non-Qualcomm chip, though as you'll find in the AT&T release of this device – that's not always true. This device runs with Android 4.0 Ice Cream Sandwich, HTC's own Sense 4.0 over the top, and the whole package is difficult not to be wholly impressed by.
This device comes with a polycarbonate casing rather than the metal HTC has for so long been known for, this lowering the weight of the device down to 4.58 ounces while the whole device is just 9.29 mm thin. The sides of the device have somewhat of a gloss finish, the back is both soft-touch and matte for an easy gripping experience, and everything, even the speaker grille, has been given a special dose of attention. As opposed to the Sensation which used a separate grille section altogether, this device has been given micro-drilled perforations for a much more cohesive design.
The glass panel across the front is entirely flat save for the edges which give the impression that the device has a lovely curved shape in addition to its already overall form-fitting chassis. The back of the device has several pogopins that work with docking station we'll also get to try out in the near future aside a small pop-out microSIM tray accessible by pin. This device has 32GB of onboard storage and, like the rest of the HTC One line, has an additional 25GB of cloud storage via DropBox free for two years. Inside you'll find an 1800 mAh battery that is not accessible nor replaceable, this decision made by HTC to reduce the size of the device in the end.
The HTC One X's 8 megapixel camera will give you full 1080p video capture coupled with the most advanced sensor ever installed on an HTC smartphone. This device also features its own image processing chip which HTC has named the HTC Image Chip. This chip is able to do all the processing work on the RAW frame before it is converted and loaded to your built-in gallery. While it doesn't appear that there's any way to access the RAW images at the moment, the rest of the specifications on this camera setup alone more than make up for it. There's a Backside-Illuminated (BSI) sensor for low-light performance, a single LED flash with 5 auto levels activated depending on the amount of light the built-in light sensor detects, and a full f2.0 lens.
The lens on the back-facing camera is one that HTC says delivers 44-percent more light to the CMOS than any other regular smartphones f2.4, this making faster regular photos or better shots in mediocre lighting a reality. Shooting photos consists of 0.7 seconds to load up plus a 0.2 second autofocus lock. According to HTC this autofocus lock is faster than a blink of an eye which clocks in at an ever so slightly larger 0.3 seconds.
As for Sense there's more than a few surprises and welcome additions to this device and the rest of the HTC One line, starting with an overall cleaner and simpler set of modifications via Sense over Android 4.0 Ice Cream Sandwich. Where in the past we saw giant animations and widgets that were unmistakably HTC's own, Sense 4.0's widgets are pared back, animations are pushed back significantly, and the whole experience is butter smooth.
This device has such essentials for 2012 as an NVIDA Tegra 3 4-PLUS-1 processor, HSPA+ connectivity, WiFi b/g/n, Bluetooth 4.0, and NFC for the first time ever on an HTC device. The HTC One X works with a microUSB port which supports MHL-HDMI output, and HTC is also presenting a MediaLink HD wireless HDMI dongle this season that you'll certainly want to check out with the HTC One line: a brand new MediaLink HD wireless HDMI dongle. This dongle connects to your TV's projector input and is able to mirror content from your HTC One S to the television with just a three finger swipe up on the device's display. HTC's Watch video rental app and player allows you to mirror video to the television while you use the devices' display independently. Check your social networks while you watch the big screen!
We'll be running with a full hands-on and unboxing once review units are ready to ship – for now it's easy to say that this is HTC greatest effort yet. HTC is going "all in" with both the software and the hardware in the whole HTC One line, a welcome change from last year's torrent of devices from the manufacturer whose new strategy is, indeed, a Hero line for 2012. Have a look at the rest of our hands-on and announcement posts in our HTC portal as well as our MWC 2012 portal for further information – and get ready for a 2012 full of quad-core, Ice Cream Sandwich, and HTC One goodness!