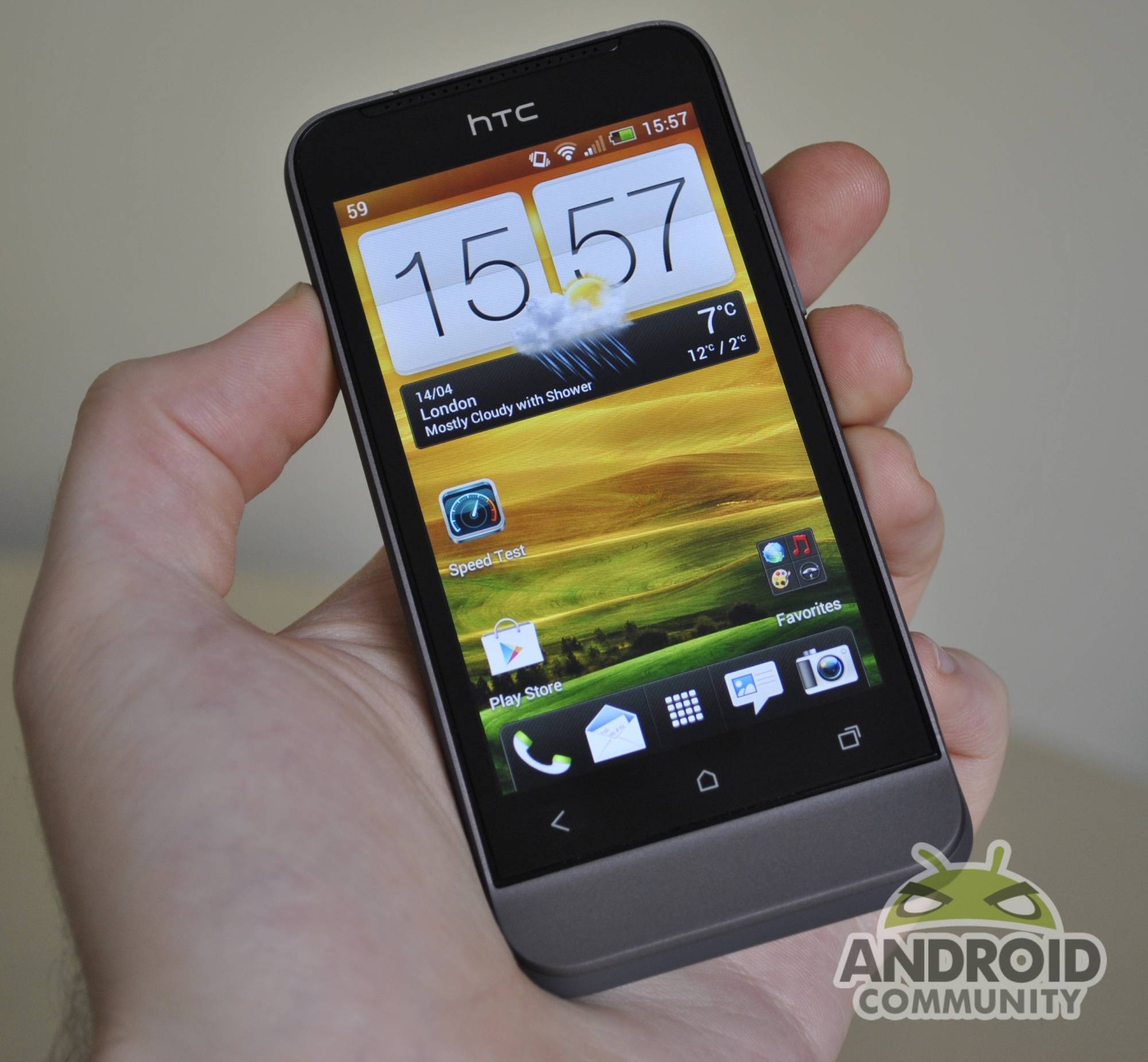 It's clear by now that HTC had a somewhat disappointing 2011. Their handset range was all over the place, so at MWC this year, they decided to buckle down and simplify things, introducing the One range. While we've already taken a look at the mid-range and high-end handsets, there's still One more to look at: the HTC One V. It doesn't have the horsepower of the other two phones, but it hopes to make up for that in terms of overall experience and affordability. Head past the jump for our full review.
Hardware
While the HTC One X opted for a unibody polycarbonate, and the One S showed us aluminum treated with micro-arc oxidation, the One V offers up a simple unibody aluminum chassis. It's durable, it's lightweight (115g), and feels fantastic in the hand. That's partly thanks to the size, too. While we understand the love for bigger screen sizes, there's also a good argument for something in the 3.5 to 4-inch ballpark, so the One V's 3.7-inch screen sits perfectly well with us. Spec wise, you're looking at a Qualcomm Snapdragon S2 MSM8255 single-core processor clocked at 1Ghz, with Adreno 205 graphics. A five megapixel camera with LED flash and f/2.0 lens can be found on the back of the phone.
The display on the One V is a Super LCD 2 panel with a 800×480 resolution. It's a shame not to see the same high resolutions found on the One X and One S, but it doesn't disappoint in the other critical departments. Viewing angles are excellent, colors are vibrant without being oversaturated, and the brightness can be cranked up to eye watering levels. Sure, the pixel density can't touch the One X or Galaxy Nexus, but it's good enough for the entry-level user, and frankly the One V's display is excellent for this price point.
In terms of storage, the HTC One V only has 1GB for the user to access, and 95MB for phone functions. A microSD card is a necessity, and the slot can be found lurking underneath the cover at the bottom of the phone, along with the SIM card slot. It takes regular size SIM cards too, unlike the One X and One S. On top of the device you'll find the power button, 3.5mm headphone jack, and LED for notifications. The volume rocker is on the right side of the phone, while the microUSB port is on the left.
Software
The One V is running on Ice Cream Sandwich, and brings Sense 4.0 along for the ride. While it's mostly the same as you'll find on the higher end handsets in the One series, there are a few graphical flares missing thanks to a lack of processor grunt. First, you only get five homescreens to play with instead of seven, and you won't get a zoomed out view if you try and pinch any of your homescreens. Transitions have also been pared back: you won't get any fancy 3D effects or smooth animations.
The keyboard is also slightly different to what you'll find on the One X or One S thanks to the decreased resolution. The navigation keys at the bottom have been removed, and even then it feels a little claustrophobic given the lower resolution of the screen. Otherwise, it's the same Sense 4.0 that you'll find on the other two phones in the line, with stock Ice Cream Sandwich elements occasionally making themselves known.
Performance and Benchmarks
This is unfortunately where the One V falls short. The 1Ghz single-core processor simply can't keep up with some of thesoftware, often being sluggish and unresponsive, particularly in the browser. Webpages can sometimes be slow to load and process, even on WiFi, and pinch-to-zoom, scrolling, and panning can all be a laborious task. Content heavy sites can even cause the phone to lock up for several seconds before continuing duties, and the phone often stopped for a few moments when typing in search queries in the browser address bar.
Otherwise, the phone wasn't bad: flicking between homescreens, even with numerous widgets, wasn't an issue, and apps were relatively quick to load. Just don't expect the performance you'd see from even a last-generation dual-core processor. With the lower price comes a sacrifice in performance, but even then it's disheartening to see it come at the expense of the overall user experience.
As for benchmarks, we put the phone through the usual gauntlet. Quadrant returned a result of 2030, AnTuTu came in at 2626, and NeNaMark 2 hitting 28.8fps. Pointing the browser towards SunSpider 0.9.1 gave us a score of 3314ms. The Qualcomm created Vellamo benchmark will favor phones with Qualcomm processors, just like the HTC One V, and predictably returned a strong result: 1169.
Camera
The One V shares the same f/2.0 aperture found on the One X and One S, but with a five megapixel sensor instead of eight. Photos are generally solid, and definitely better than other cameras around this price bracket, but there are a few issues. Colors can sometimes look inaccurate depending on lighting conditions, resulting in dull photos, or shifted towards a certain hue.
While photos with subjects that sit a close to medium distance away from the camera generally turn out well, far away objects like buildings can result in a blocky mess. JPG compression seems to be the culprit, with photos coming in undersized (typically around 650 to 800KB), and any detail to be found on buildings seems to have been smoothed over, with a healthy dollop of blocking and ringing added for good measure. Don't get us wrong, it's a decent camera overall, it's just let down by aggressive compression. That could possibly be fixed once you're rooted and poke around the camera settings, but for those who don't delve into such things and prefer stock devices, it's something to be wary of.
Battery Life
There's a 1,500mAh battery sealed into the One V, and that capacity matched with the frugal processor makes for good battery life overall. We used the phone for a couple of days, and while we would consider our usage lighter than most, it still managed to get us through two days without needing a recharge. Even with heavier usage, you should be able to make it through a full working day without any issues.
We also performed a more strenuous video rundown test. That involved a 720p H.264 High Profile L3.1 video with AAC audio played on loop with screen brightness set to 100%, WiFi and 3G left on, and headphones plugged in with volume set at 50%. The One V managed to last five hours and five minutes before it was begging for the charger.
Wrap-Up
The HTC One V is a good phone overall. It will appeal to those looking to make the jump into the smartphone world for the first time, and it's a good step up for those still stuck on aging 528MHz devices. What ultimately lets it down is the sluggish performance in the browser thanks to the single-core processor. It's not an automatic deal breaker, but you'll definitely run into circumstances on heavier sites where the phone will stutter, pause, and try to catch its breath.
Having said that, it's only one knock against an otherwise enticing package. You get great build quality, the latest version of Android along with a restrained Sense experience, a solid camera, and excellent screen, all for an affordable price. Negri Electronics has the phone in stock for $345.50, and we imagine if US carriers start offering the phone it will be close to (if not) free. If that turns out to be the case, then the HTC One V is very much worth considering.