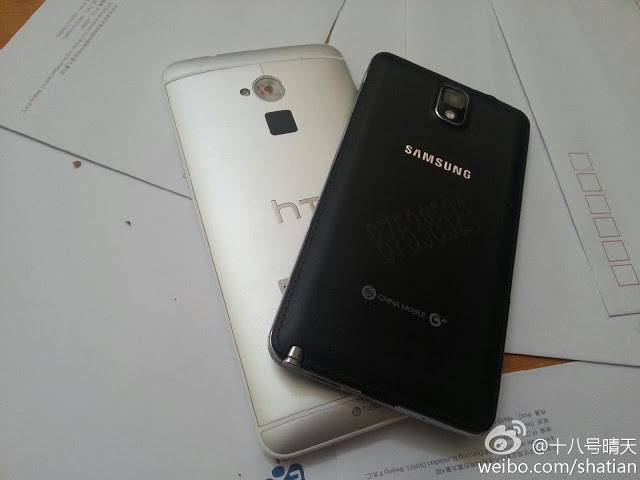 It seemed most of the HTC One Max leaks had been focused on that little square box that is sitting on the back of the handset. The one that sits just below the camera lens and is expected to be a fingerprint scanner. Well, looking at some of the more recent leaks and it looks like the Galaxy Note 3 is becoming a trusty companion.
We saw a series of leaked images comparing the One Max and Galaxy Note 3 earlier in the week and it looks like another has arrived today. This latest round includes three images, of which, all have come by way of the Chinese language weibo. Up until this point the Galaxy Note 3 has taken some honor in being one of the larger smartphones, but it looks like the One Max will step things up just a bit.
The HTC One Max is expected to arrive with a 5.9-inch display, as compared to the 5.7-inch display on the Note 3. We already know the Note 3 has a Full HD display and based on the rumors, the One Max should have the same. Other still rumored specs for the HTC One Max include Android 4.3 Jelly Bean along with a 3300 mAh battery, fingerprint sensor, 2GB of RAM, quad-core Snapdragon processor and an UltraPixel camera.
In comparison, the Note 3 has a 3200 mAh battery, 3GB of RAM, quad-core Snapdragon 800 processor and 13 megapixel rear-facing camera. While we haven't seen anything official from HTC just yet, they are expected to announce the One Max in October. Time will tell how accurate that timeline and these specs leaks have been, but for now we do have some benchmarks from an earlier leak.
That one detailed benchmarks from AnTuTu and have the One Max sitting with a score of 26,417. What this means is we may be looking at a handset that is introduced with a Snapdragon 600 processor as opposed to the widely rumored Snapdragon 800 processor. But again, this is all speculation based on rumor.
VIA: Tech Kiddy