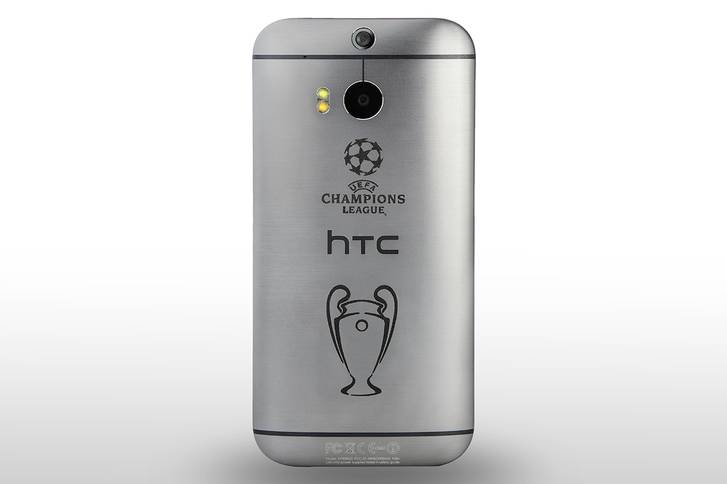 Football (soccer) fans are all aflutter as Champions League football for this season officially started just a few hours ago. HTC celebrates Europe's biggest club competition by announcing their special Champions League edition of their current flagship, the HTC One M8. No, it doesn't mean that you'll become as good a football player as Messi or Ronaldo when you have this phone, but it will definitely show other people you're a true blue football (soccer) fan.
What makes the phone so special is that its back cover is engraved with the UEFA Champions League logo and the iconic image of the trophy itself. Now it might make you an unwitting walking advertisement for UEFA, but hey, if you like having football-related merchandise, we're not judging. It seems like a pretty cool "memorabilia" to have, especially if your team is highly favoured to win the trophy this year.
Aside from that engraving though, everything remains as is with the usual HTC One M8. So that means it has a 5-inch 1080 display and runs on a Qualcomm Snapdragon 801 processor. It has 2GB RAM and either a 16 or 32GB internal storage. Maybe it should also come with pre-installed football related apps, like HTC's Football Feed, which should keep you updated with all the latest goings-on in the tournament. Maybe they should throw in a pre-installed FIFA 15, and if this phone was available for sale, probably a lot of football fans would want to get their hands on that.
Unfortunately, the special Champions League edition of the HTC One M8 will not be coming to a retail store near you. They have not released exact details yet, but they will be announcing how you can win this so keep a close eye on all of HTC's social media channels.
VIA: Pocket Lint