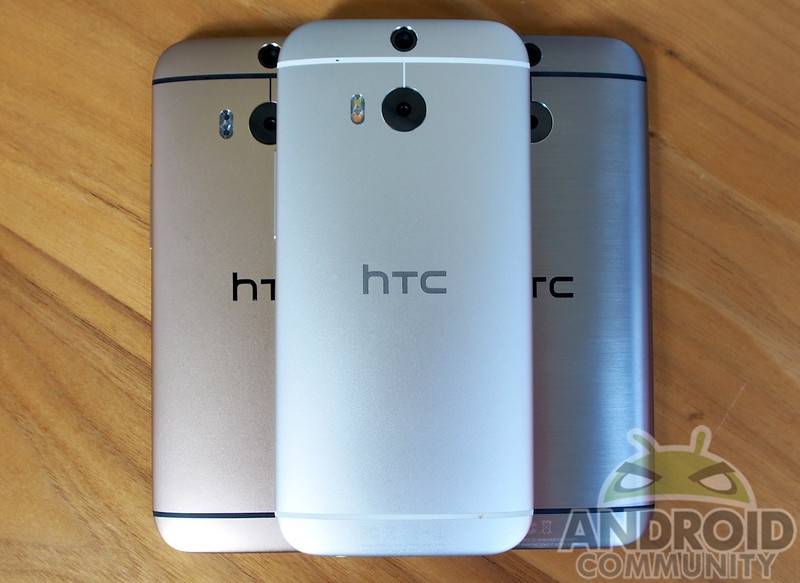 The HTC One (M8) has been officially unveiled. This means the rumors and leaks will be coming to an end. But perhaps more important here — it means we are finally going to be able to put the handset to the test. We are curious to see how it stands up in comparison to the previous year HTC One. And we are also curious to see how well it stands up against the other recently announced flagship — the Samsung Galaxy S5.
We have been briefed on the HTC One (M8) and as such have been able to spend a bit of time with the device. The review unit we have on hand is an unlocked European model, which means we are able to begin getting an idea of what can be expected in terms of performance. Having said that, we do have to remember that some of the points we are about to mention will change once we get a proper US model in for testing. For now though, we have been using the unlocked European model with an AT&T SIM.
The overall build quality of the HTC One (M8) is solid. Of course, those who have played with the previous generation One will likely not find that at all surprising. To that point though, HTC made mention about how this One (M8) sports more metal in the frame. Last year's model was a housing made of 70 percent metal and this year HTC stepped it up to 90 percent. The One (M8) housing wraps all the way around the sides — right up to the edge of the display. The back is then slightly curved, and sporting a brushed look which gives an overall solid appearance.
The corners are nicely rounded with the sides of the device containing the volume rocker, microSD memory card slot and SIM card slot. The power button sits on the top with the microUSB and headphone jack on the bottom. The front of the handset has the front-facing speakers (with BoomSound) as well as a 5MP camera. Looking to the back and you'll find the Duo Camera setup. This includes the HTC UltraPixel taking the primary position.
We do need to spend a bit more quality time with the HTC One (M8) before we can offer a proper deep dive in terms of the software, however we can say this release brings Kit Kat with Sense 6. HTC is touting Sense 6 as being a "stylish new overhaul." Some of the Sense related features will be familiar such as Zoe and BlinkFeed, however there is more here including custom themes and fonts, Motion Launch gestures, UFocus, and of course, the previously mentioned BoomSound.
Remaining hardware specs for the HTC One (M8) include a 5-inch 1080p display, Qualcomm Snapdragon 801 processor, 2GB of RAM, 16GB or 32GB of internal storage, a microSD card slot (128GB), 2600 mAh non-removable battery, WiFi 802.11 a/b//g/n/ac, Bluetooth 4.0 and GPS.
Performance and Benchmarks
This is always a touchy subject as some prefer to see the hard numbers, and others just want to know the handset performs well in day-to-day use. This time around we need to remind you this is an unlocked European model running on an AT&T SIM. Basically, before we take these as firm and final numbers — we want to repeat these tests with a proper US carrier branded model. Having said that, the gallery sitting below contains three images — one for the Quadrant benchmarks, one for the speed, and the final being Sunspider.
Battery
The same warning carries over to the battery. In this case nothing we are seeing gives any reason for concern, but we'll trust the results a bit more once we have a US carrier model running with the correct carrier SIM installed. The image sitting below offers a view of what we found after having the handset sit overnight.
One thing HTC has done this time around is add something called the "Extreme Power Saving Mode." This is another item we need to put to some further testing, but it does appear to have some promise. Basically, HTC has said this mode means you will be able to get up to 2 weeks of standby time "while still giving you manual access to calls, emails, texts, and other basic functions."
The battery (non-removable 2600 mAh) in the HTC One (M8) is touted as being able to last 40 percent longer than before and is expected to be able to give 30 hours of standby time (using the Extreme Power Saving Mode) with just 10 percent battery life remaining. Naturally, real world use tends to change things a bit and while battery life often comes down to personal use patterns — this is something we need to see to believe.
Storage
Storage is always a touchy subject — especially with devices that have only 16GB internally. You'll notice in the image, we had no trouble quickly filling what was available and have gotten down to just 2GB remaining. A good chunk of that, 9.05GB comes from the Apps and Other with 4.69GB. Images and video are still only at 157MB, which means that we are expecting some storage issues as we begin putting this to the test. We found much of this went to app data such as cached music from Spotify.
We should point out the HTC One (M8) does have a microSD memory card slot, one that is capable of supporting cards up to 128GB in size. But as many have seen with microSD cards and Android — they are not always the most convenient to use. Simply put, we prefer internal storage and based on what we have seen in our limited hands-on time, we may suggest going with the 32GB model.
Camera
A big portion of the HTC One (M8) deals with the camera. Things are pretty simple in regards to the front-facing camera. Here you can expect to find a 5MP with BSI sensor. The front-facing camera also has a wide angle lens with HDR and can capture video at 1080p Full HD. Shifting over to the back and we find what HTC refers to as the Duo Camera. Obviously, this goes to the two-lens setup.
The primary camera of those two is an HTC UltraPixel. Specifically, the primary camera has the following; BSI sensor, pixel size 2.0 um, sensors size 1/3″, f/2.0 aperture, 28mm lens. More than just the hardware though, the HTC One (M8) has some camera related software features. One of these is Zoe, which many will be familiar with from the previous generation One.
As a recap, Zoe mixes images and video and can be done in seconds. In our experience, the process is just as easy as it had been. Other camera highlights include panoramic and a new simplified UI. To that last point, this comes as a single camera button. Users can tap to take a single still image, or hold for 3 seconds to capture a mix of still images and a short video. Keep holding past the 3 seconds and you'll get to video mode.
Moving past that and we come to UFocus. This is the new feature which as the name suggests — deals with focus. In simple form, this allows the user to choose which part of the image should be in focus. This is done after the picture is taken, and has the parts outside the main focus taking the bokeh effect. Or in other words, taking a slight blur.
Using Ufocus is simple, take the picture,tap the thumbnail and then tap the image to open the menu. From that point you tap the UFocus icon and then tap different places to refocus the image. Once you have the desired focus, just save the image as you would with any other editing. Lastly, sitting below is a random sample of images captured with the HTC One (M8).
Wrap-Up
Bottom line here, we like what we see. The HTC One (M8) seems to be a nice step from the now-previous generation One. We look forward to more testing with proper US carrier models, not to mention, how the handset will stand up agains the Samsung Galaxy S5 in terms of day-to-day real world use.