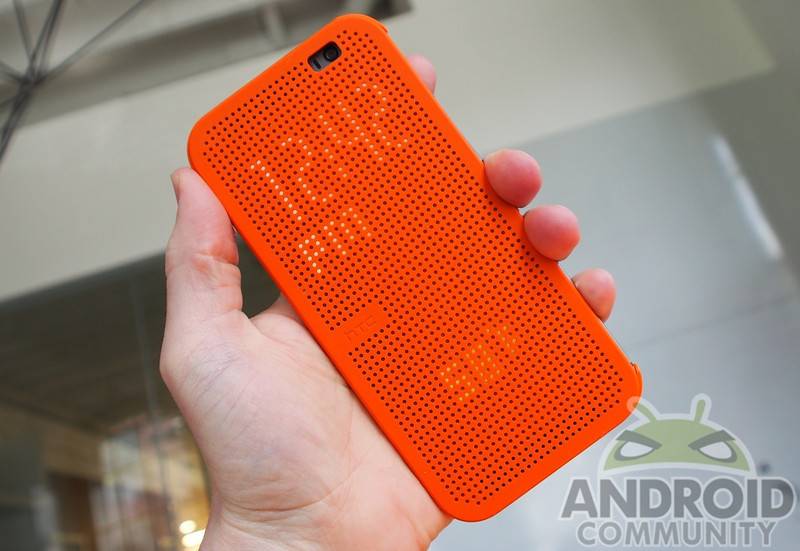 Along with the phone itself, HTC also unveiled some accessories for the One (M8). We've seen a variety including a Car Kit, Battery Bar and BoomBass. Not to mention, there were a few case options being shown including the fairly standard Flip Case and the multicolored Double Dip case. Perhaps the most interesting of the bunch is this last though, the HTC Dot View case.
This one is just as the name would suggest — it offers a view of incoming notifications using a dot setup. HTC mentioned how this case "gives you a colorful, fun dot-matrix view of your HTC One (M8), right on the cover." Simply put, this is a flip style cover, but one that offers a view of incoming notifications such as calls and message.
Other items that will be shown include calendar, alarms and battery status. This Dot View case protects the front and back of the HTC One (M8) and due to the way the messages are displayed — using the dots in the case and the display of the phone — it doesn't require any extra power. As with any case option, this one does add a bit of bulk to the phone, but that is really at a minimum here.
And naturally, as you would expect with an official case, the HTC Dot View offers easy access to all the features of the One (M8). That is to say the front and rear-facing camera is available, as well the volume rocker, headphone jack, microUSB and power button. You can even take action on those notifications without flipping the cover open.
All that having been said, we've only had a brief hands-on here so it is difficult to speak long term, but it seems the Dot View will be sturdy enough to hold up to some day-to-day abuse. Plus, it has a rather retro-looking design given the dot-matrix appearance. That alone may make this a winning option for some.
Make sure to keep an eye on the HTC One tag here on Android Community to get the full picture for the One (M8).