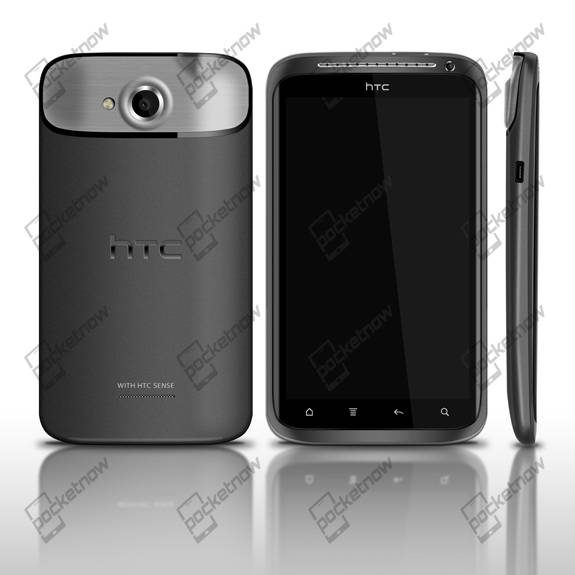 Whoa, Monday just got a lot more exciting. We have just been tipped with some photos of a smartphone being called the HTC Edge, the companies very first quad-core phone. This could also be the first actual quad-core smartphone if you think about it. We are hearing this will basically be the top dog of them all and combine everything HTC has to offer into one. a 4.7″ 1280 x 720p HD display, Beats Audio, and of course that quad-core NVIDIA Tegra 3 processor.
Initial reports are suggesting a 1.5 GHz quad-core processor but we are still digging for more details. In the past almost every HTC phone has came with Qualcomm processors so this would be a huge change of direction, so that is my first doubt. Second NVIDIA Tegra 2 is only 1.0 GHz although a 1.5 GHz quad-core does sound amazing. So basically we are hearing a 4.7″ quad-core beast with 1GB of RAM, 32GB internal storage, 8 megapixel camera on the rear, 2 up front for video chat, Beats Audio and more all into an awesome looking device around 10mm thin.
According to PocketNow this is a credible source, but for now this is probably all just speculation but sounds amazing and I want one now. We are seeing capacitive buttons on the rendered image (looking pretty real) so that could mean Android 2.3 Gingerbread although I'm sure many were hoping for Android 4.0 Ice Cream Sandwich. Obviously a flagship device like this would get the update, but you'd think it would come out of the box with Ice Cream Sandwich. This early, with NVIDIA not even officially announcing the Tegra 3 quad-core yet this phone is highly acceptable to both OS, and design changes. There is also no talk of 4G LTE here but that will most likely come later. If you ask me this looks like the Sensation and the recently announced HTC Rezound made a baby, and it looks beautiful.
Developing… stay tuned for more details!
[via PocketNow]