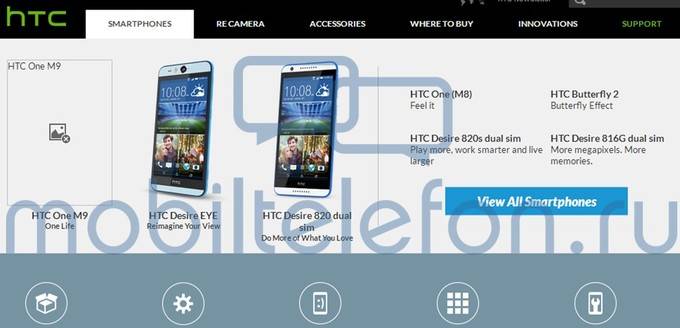 From HTC One (M7) to HTC One (M8) to HTC One M9, notice anything different? Yep, no more parentheses on the next flagship. It still is a rumor but I don't think there's any problem with HTC removing the extra symbols. HTC One M9 seems simpler. A website was spotted with the HTC One M9 reference which actually seems legit and nothing photoshopped. The page has since been taken down though. (And seriously, what's with the parentheses anyway?)
The HTC One M9 is expected to arrive on March 1. We've been saying a Mobile World Congress announcement and looks like it's true after all the rumors and leaks we've seen. To review, the HTC One M9 flagship Android phone is said to have a 5-inch 1080p display screen, 3GB DDR4 RAM, 64-bit Snapdragon 810 chipset, 32GB or 64GB built-in storage, and an impressive 20 megapixel camera on the back.
The 4MP Ultrapixel camera has been moved to the front instead. For longer battery life, there's the 2840mAh battery and the HTC Sense 7.0 user interface running on Android 5.0.2. We're not doubting all these information and we know it's only a matter of time, a few more weeks from today until the 1st of March, before we see the light of the new HTC One M9.
HTC's very own website confirmed the HTC One M9 based on the source code with the product tagline "One Life". Such code is not exactly hidden because anyone can view that. Not everyone know how to check the source code though. We heard of a possible 1440 x 2560 QHD display but HTC is believed to be reserving that for the HTC One M9 Plus. Let's wait and see.