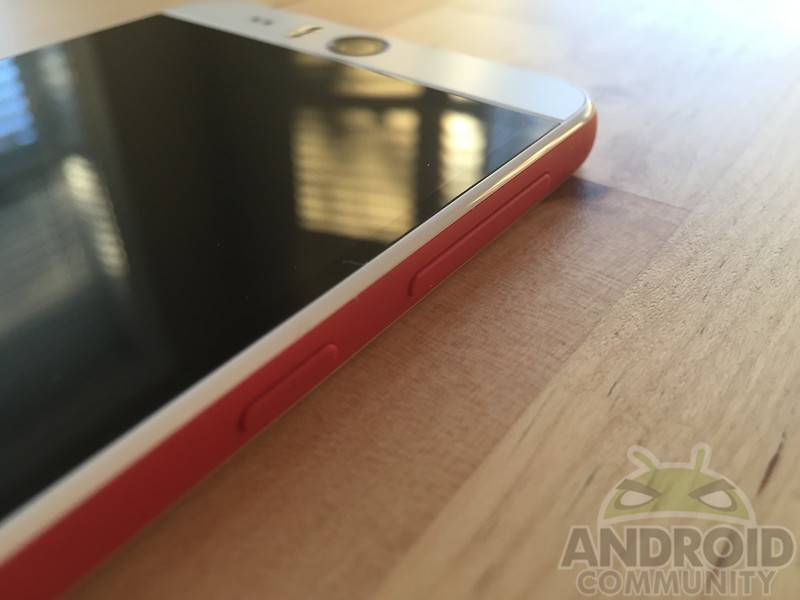 Marketed as the "phone made for selfies", the HTC Desire Eye forges a new path for HTC. It's not all metal, and definitely not a flagship device. After leaning on the One series for two years, HTC is now looking to the mid-range segment, dominated by younger buyers stateside. Is the Desire Eye a new phone that can compete with the likes of a Moto G? Better yet, can it keep pace with an iPhone 5S, or 5C? The short answer: almost.
Hardware
The Desire Eye isn't an HTC phone like you've come to expect one to be. It's not metal, and the design philosophy found on HTC's flagship One (M8) is missing. The Desire Eye is a pill, more closely resembling an iPhone 6 than an HTC One.
It's also plastic. Very plastic. The entire phone, save for the screen and camera/flash assemblies, is plastic. It's not the sheen stuff you'll find on a One (E8), though. It's a matte finish, with a colorful accent around the edge. It looks youthful and bright.
You do get front-facing speakers, though they're housed in this odd gap around the screen where it doesn't quite meet the plastic shell. The sound isn't branded as "Boomsound", either, which should tell you it's lacking. It is. The gap looks more like a manufacturing fault than a speaker grille.
The plastic might be matte, but it's not "cheap" as I'd define it. The colored band around the edge is a different plastic-y material, and has a very slightly tacky grip. If anything here is "cheap", it's the screen not meeting the plastic bezel on the top and bottom flush.
The "Desire Eye" name doesn't hide what HTC's goal is here, and that's pics. Lots of pics. The front and rear camera are identical 13MP shooters, so you're not going to struggle with the decision to take a blind-side selfie or suffer the poor quality of a front-facing cam.
That does mean you'll have a massive camera staring at you all the time, though, so keep that in mind. If you like your device fronts to be clean and uninterrupted, the Desire Eye won't please you.
For the spec-hungry, here's the full list of what you'll find with the Desire Eye. It's basically a re-packaged HTC One:
Display: 5.2-inch, 1080 x 1920, 424 ppi
Processor: Snapdragon 80, quad-core, 2.3GHz
GPU: Adreno 330
RAM: 2 GB
Memory: 16 GB, expandable via micro SD (up to 128GB)
Camera: 13 MP, 4208 x 3120, autofocus, dual-flash (front and back)
OS: Android 4.4.2
Software
There isn't much more we can say about HTC's software. They've properly democratized their services into apps, and their Android overlay, dubbed "Sense", makes sense. Blinkfeed, which is a social hub of sorts, is still pretty awesome, even for a purist like me.
HTC has made just enough tweaks to Android to make it their own, but still keep it very "Android". Sense is one of the only Android skins I see both newbies and seasoned vets falling for, and that says a lot.
Benchmarks
You want 'em, we'll give 'em to ya. I always run benchmarks, and present them without comment. They speak for themselves.
Camera
This is what you're all here to see, right? Front or rear, you can't really miss with the Desire Eye's cameras. I've taken selfies, and even used the front-facing cam to take some traditionally "rear-facing camera" pics in an attempt to "spoof" it, if you will.
I tried to find a vulnerability, hoping the marketing chatter of the cameras being identical was all talk. It's not. The front-facing camera is pretty special. It's not perfect by any means, but it will definitely get the job done.
Below is a gallery of both front and rear pics, front-facing pics tagged accordingly. I left my face out of the mix to give a better idea of what the selfie cam was capable of. The Desire Eye takes really good selfies, but the point here was to make a point about how good the camera is without duck-lips and sorority girl group poses.
Downside
The Desire Eye is a solid phone, through and through. It's not perfect, though.
The volume and power buttons on the right side are very slightly raised, and are made of the same plastic-ish material as the band. I'd be fine with their having a bit more pronouncement, and even taking on a more rubber-y feel. The opposite side of the phone houses your SIM and microSD card tray, and are a pain to get into.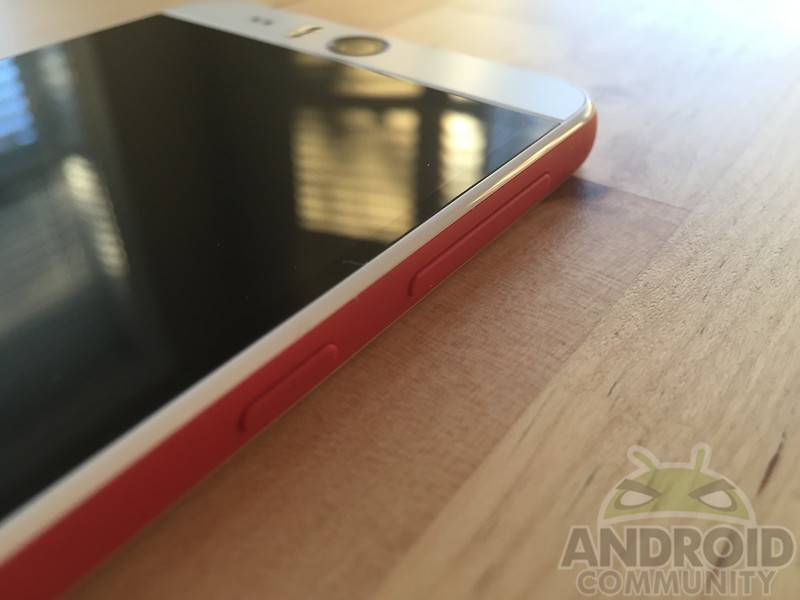 HTC claims the Desire Eye is waterproof, but the screen gap where the speakers are is still concerning. Unless they've gone with Liquipel to coat every component involved coated, I won't be taking this for a swim.
The screen isn't quite as good as I'd hoped for, and seems muted; almost like a sheen is over it all the time. It just doesn't "pop", and that's a shame. When you have two really great cameras, it's a let-down to not have pics accurately displayed on-screen.
Verdict
The Desire Eye is meant for people who want to take great pics, and that crowd will like it quite a bit. If you find yourself snapping pics all day, every day, the Desire Eye is for you.
I really do enjoy the design aesthetics, too. The rear is delightfully toned-down, sparse save for the typical branding and camera/flash duo and tiny microphone hole. The red band (on my tester, at least) around the edge is pretty neat, too.
I don't mind plastic one bit, either. Though metal phones are the rage, the Desire Eye wisely takes most of the flagship guts and slaps them into a plastic shell, giving you a really good phone and a positive bank account balance.
The screen is the only real loser here. The muted color tones disappoint, and that gap still looks more like a manufacturing flaw than speakers. Desire Eye's screen just isn't my favorite, but blacks are true to form and yellows look yellow. It's not terrible, it's just not great. The pixel density is fine, but the odd opaque overtone just puts me off.
The camera duo are really nice, though. You'll find a better rear-facing camera elsewhere, but you won't find a better duo of cameras anywhere. If you've ever gone to snap a selfie or groupie and thought "man, this picture is going to SUCK because of this stupid camera", the Desire Eye is worth your consideration in a big way. The Desire Eye is also spec-heavy, which is a huge plus.
The Desire Eye is a really good phone, and could put HTC on the "upper-tier-but-still-mid-range" map. I hope it does, too. Of all the mid-range devices around, the Desire Eye is the one that will find a dedicated audience. Unless you're going to buy an HTC One (M8) or LG G3, the Desire Eye is worth a hard look.
You can find the Desire Eye at AT&T, with subsidized plans starting at $149.99.