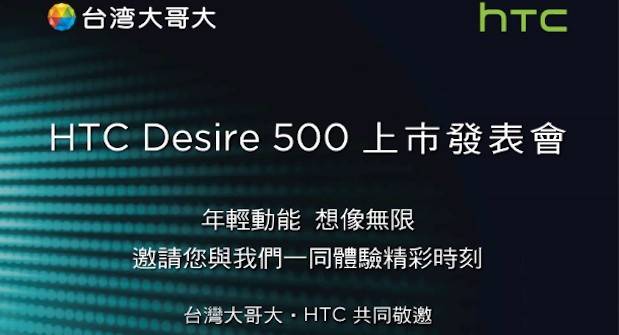 While the handset specifics are still unknown, HTC will be launching the Desire 500 smartphone next week. The initial launch will be for those in Taiwan, however the handset is also expected to arrive in other markets. The Desire 500 will join the Desire 200 and 600 smartphones and based on the message on the event invite, it appears as if it will be a device aimed at first-time or younger smartphone buyers.
The event invite is sitting above, however when translated it reads as follows; "Energy of the young, imagination of the boundless." Looking at the Desire 200 and 600 in comparison and we have a low-end and a mid-range device. The Desire 200 sports a 3.5-inch (320 x 480) display with Android 4.0 Ice Cream Sandwich and a single-core 1GHz processor.
The Desire 500 on the other hand has a bit more going for it. This handset has a 4.5-inch (540 x 960) display with Android 4.1 Jelly Bean and a quad-core 1.2GHz Snapdragon processor. Granted, not anything over the top exciting, but at least something that is firmly sitting in the mid-range level.
While we know the Desire 200 and 600 specs, we also shouldn't assume that the specs of the 500 are going to fall in the middle of the two. At this point it was just a matter of an event invite for the Desire 500 and nothing more. And strangely enough, things managed to get this far without any leaks and speculation. Of course, that thought alone could cause one to speculate.
Otherwise, while we know the Desire 500 will be heading to Taiwan, lets cover the bit about it possibly coming available in other markets. The Desire 500 name turned up on a document that leaked from O2 Germany earlier in the month. The catch with that was the document also included the HTC One Mini and the Desire 500 was pushed to the side. That said, the HTC Desire 500 event is next week and it looks like all (or at least most) of the answers will be arriving at that point.
VIA: Engadget