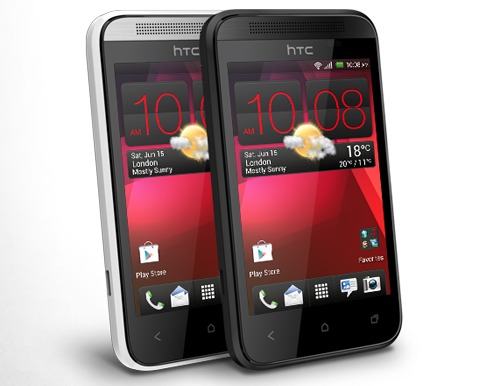 The HTC Desire 200 isn't a device you'll be seeing out there in the wild as often as the HTC One – mostly because it wont be released in the USA until it's passed through the paces internationally. That said, it'll be quite the release when it does hit the likes of T-Mobile and AT&T: and good luck to Verizon too: (we'll see some "DROID" attached to it then). Herein lies the smallest vision HTC has released this year.
With the HTC Desire 200, the hardware team responsible for the HTC One have clearly done their job well. What you've got is the top front of the HTC One with a front-facing speaker that'll note quite be as powerful as the HTC One's Boomsound, while the bottom looks more like the past generation of HTC One devices – speakerless, that is.
A 3.5-inch display at HVGA resolution sits up front of this device with Android (of unknown generation type) and HTC Sense runs inside. This device looks like it's running the same software that the HTC One X and HTC One V ran last year – perfectly fine for those looking for the baseline Android experience with HTC.
Inside you've got 4GB of internal storage, the processor on this device is a Qualcomm Snapdragon S1 single-core SoC with 1GHz clock-speed, and you'll be working with a regular SIM-card size – that's rare these days!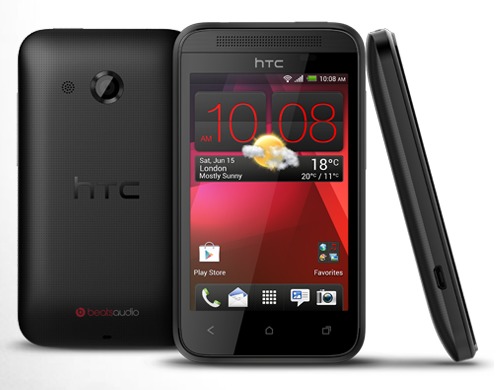 RAM on this device is a surprising 512MB DDR1 while a 5 megapixel (not ultrapixel) camera rests on the back, and no camera sits up front, which is a bummer. You will, on the other hand, be working with some next-generation technology with Bluetooth 4.0 with aptX enabled, ready for Bluetooth SMART when the next update to Android rolls around.