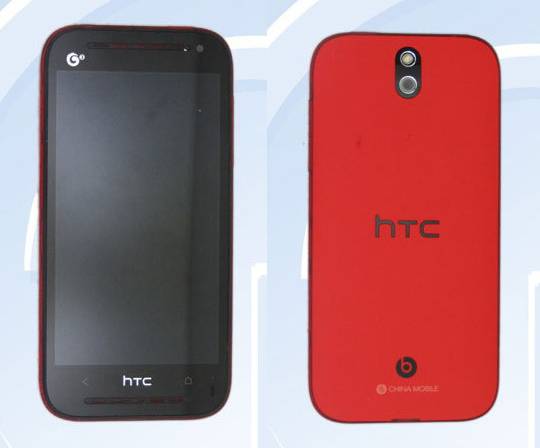 All the hype and noise lately has been around the HTC One flagship smartphone. With a stunning aluminum design, front facing Beats Audio speakers and a quad-core processor. Today it looks like HTC might be continuing the front facing speaker trend, but for their budget friendly devices. Below is a newly leaked device going by the name HTC 608t, and it has some pretty mid-range specs.
What you see above is an unreleased smartphone from HTC headed to China Mobile. It appears to be quite similar to the HTC One SV and some of their other budget devices, only it rocks a few new features. You could essentially call it the poor man's HTC One. It has the same capacitive touch button layout, as well as similar looking front-facing speakers.
According to the report provided by Blog of Mobile, this new device has some middle of the road specs and will be a budget-aimed device. Talks of a 4.5-inch qHD 540×960 resolution display, most likely a Qualcomm quad-core processor, but sadly it only received 1GB of RAM. We still get Beats Audio, an 8 megapixel camera, and Android 4.1.2 Jelly Bean is also on board.
Not bad right? Details regarding internal storage and battery size aren't yet available, but this looks like a pretty promising mid-range device. Not everyone needs a flagship smartphone, but if you like some of what the HTC One offers, this will be a good option for those on a budget in China. Hopefully something similar arrives for the U.S. market soon. Thoughts?
[via Blog of Mobile]