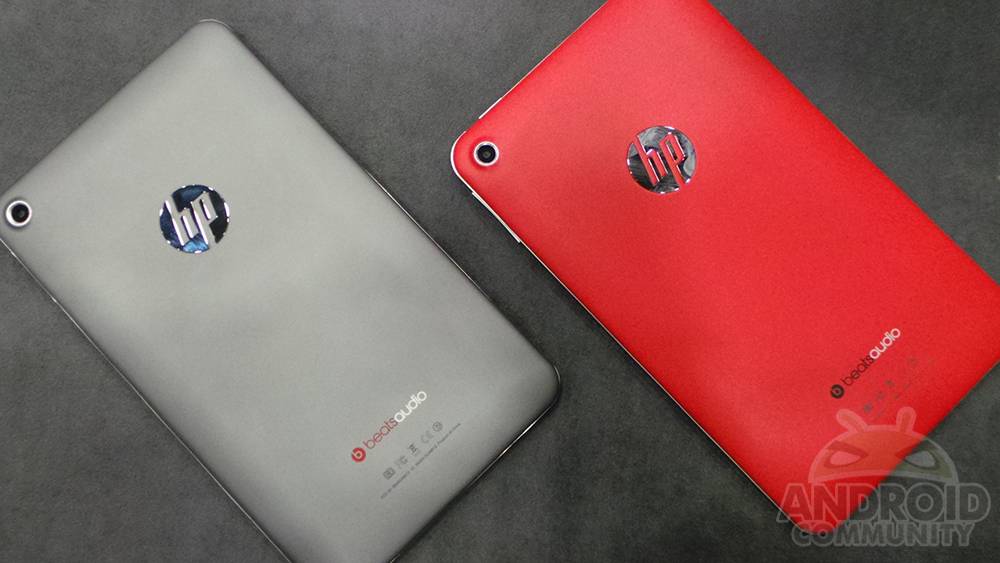 In case you missed the news this afternoon, HP has entered the Android tablet game with their very first HP Slate 7 running Android 4.1 Jelly Bean. What we have here is a sleek little budget friendly tablet to try and take on the Nexus 7 all for the low price of just $169. Below we have a few hands-on pictures and videos to see if it's worth your dollar.
HP's TouchPad was a well-rounded tablet, aside from the operating system that never got feet under its legs. Here however Android 4.1 Jelly Bean, more than 700,000 apps, and a nice little design should make the HP Slate 7 much more successful. The only downfall – the low resolution display. HP opted for a 1024 x 600 resolution slate while everyone else is offering at least 720p HD displays.
Now that we've had our hands on it, it basically reminds us 100% of the Nexus 7. Both in the overall design, feel, thickness, weight and all. Obviously this is made of stainless-steel instead of plastics, but has a soft coat red or black option on back to make it comfortable to hold. Sadly the resolution isn't the only problem, HP also used an unknown 1.6 GHz dual-core processor while the Nexus 7 rocks the Tegra 3 quad-core. Either way it feels good, performs well from our limited chance to see it, so check out the hands-on video below.
With that said, the HP Slate 7 is just 10.7mm thin, lightweight, and comes with a pair of cameras on both the front and back. Obviously the Nexus 7 doesn't have a rear camera – so that's a plus here. Then with HP we have micro-SD for extending internal storage, and beats audio integration all on board. It looks and feels nice, was designed well, and is a good first device for HP.
Is this too late to the game, or will the $169 price point lure potential buyers? We'll see. It will be available in April for just $169 so stay tuned for a full review when that time comes.