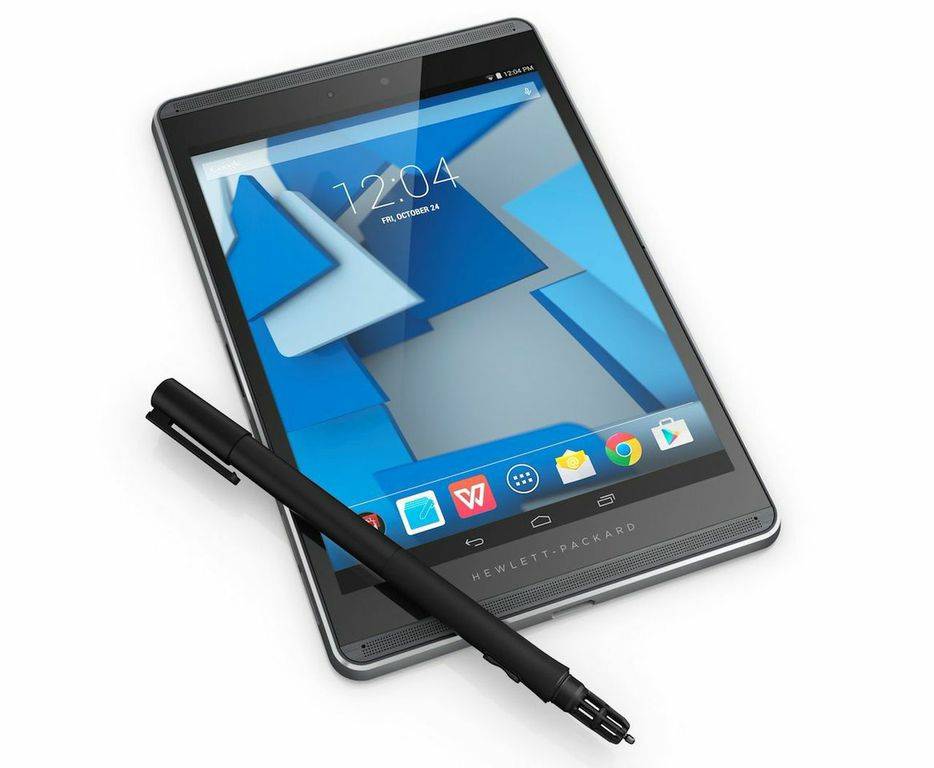 Today Hewlett-Packard has introduced 3 new Android tablets that they've been working on; each tablet engineered and designed with a different goal in mind. HP has focused on the various work fields that could benefit from the use of mobile devices and has catered to those jobs in a sense of reliability, durability and performance. Whether the field of work is from the office, to manufacturing floor, clinical healthcare, or in school, the new tablets are ready to help users make work more efficient.
The HP Pro Slate 8 and HP Pro Slate 12 are both considered high-definition commercial-grade Android tablets operating on Android 4.4 KitKat. Both tablets are powered by Qualcomm's Snapdragon 800 series 2.3GHz processor. The Slate 8-inch display rocks in at 2048 x 1536 resolution with Corning Gorilla Glass 4 protective top- glass, while the Slate 12-inch display illuminates a 1600 x 1200 HD resolution screen on Corning's Concore Glass technology.
The HP Pro Slate 8 measures in at 136.95 x 7.99 x 206.99 mm and weighs in just at 350g. The Pro Slate 12 measures in at 300.3 x 7.99 x 221.95 mm and weighs in at 850g. The two new tablets are now available for purchase. The Slate 8 starts off at $449 while the Slate 12 has you dish out $569.
Pairing alongside with both HP Pro Slate tablets is the HP Duet Pen, impressively using Qualcomm Snapdragon digital pen technology. The pen can write on tablet and regular paper. Content written with the smart pen can be digitized and made shareable amongst others using HP's Paper Folio technology.
Another Android 4.4 KitKat tablet, the HP Pro Slate 10 EE, focuses on educational training with the aspect of 1:1 teacher student interaction. Powered by Intel Atom quad-core processor, the 10.1-inch tablet is equipped with a low 2 MP front camera and 5 MP rear camera. Onboard is a micro HDMI outlet which allows you to plug into an external displays. An optional keyboard and stylus can be attached to engage in a more full experience of teaching and learning.
The Slate 10 measures in at 280 x 182 x 14.4 mm and weighs in at 855g. The educational training tablet is available to purchase starting off at $279.
The new Android tablets were part of a larger group of tablets HP introduced today; head over to SlashGear for all the details on HP's entire new range.
SOURCE: Hewlett-Packard