So this is a real dilemma for those of us Android fanatics who either want to show our friends how we finished off that boss in an RPG, or teach some of our family members how to use Skype, or make a demo video for a new app for publishing anywhere, or just email your mom a video tutorial of how to set her alarm – there used to be no easy way to do this on an Android device. There are app-based screen recorders, but truth be told, it was just too much of a hassle. Now we're bringing you a way so you can do this easily and without all the hassle – that is, record whatever you're doing on your screen on video and be able to upload it wherever you choose to.
There was really no easy way to do this before Google made a way. There were apps like Rec Screen Recorder, but they required root access – so that was generally not for everybody. Then there were apps like Recordable, which did the job, but you had to pay premium, as these were paid apps (USD$1.00 to USD$4.000). But Google, with the release of the YouTube Gaming app, has made this available for everyone. This app is compatible with devices running Android 4.1 or better.
Obviously, YouTube Gaming is designed to record your gaming exploits, but who said that you can't use it to take a video of your screen while doing other things? Best part of this is, you can do this without any Internet available. Of course, you will need a connection when you choose to upload it, but using the app does not require Internet.
Step 1: Install the YouTube Gaming app. Once you've installed the app, launch it and tap "Go Live" feature in the top corner. Caveat here – depending on your device and orientation, the option to "Go Live" may be hidden somewhat. Tap Next after.
Step 2: Choose your format. You can record either in 720p (HD) or 480p (SD). Make sure "Record" is selected before tapping Next again twice.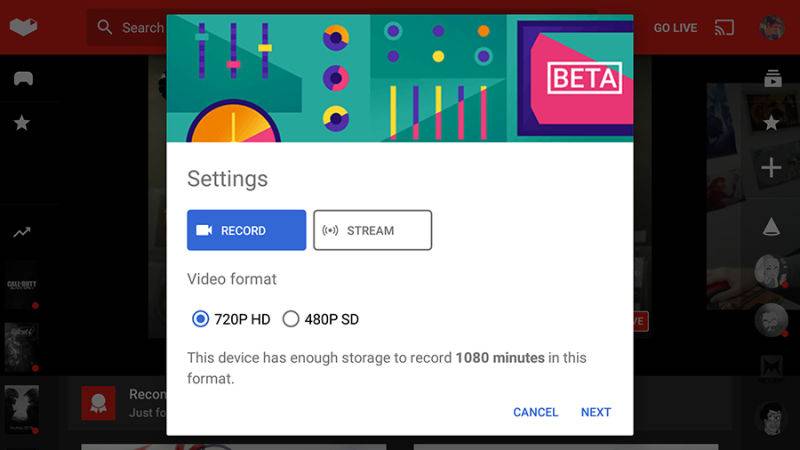 Step 3: Choose an app to record. This feature will let you choose what app you want to record. Obviously, games will be the main target, but you can select almost any app installed on your mobile. Selecting the app allows you to start the recording. Tap Start Now to begin and you're off.
Toggles at the bottom of the screen will allow you to turn the microphone input on and off, if you choose to do live commentary. You can also choose to include a live stream of your face – via the front-facing cam – if you want to.
Step 4: Select the Stop button when you've finished recording.
That's it! You can then use the app to trim your video. The app also gives you the option to upload to YouTube, but if you'd rather not do that, you don't have to. Just back out of the screen and you'll find your video saved in your device's gallery, where you can edit it some more, or basically do whatever you want with it.
Pretty easy, right?
DOWNLOAD YouTube Gaming: Google Play Store