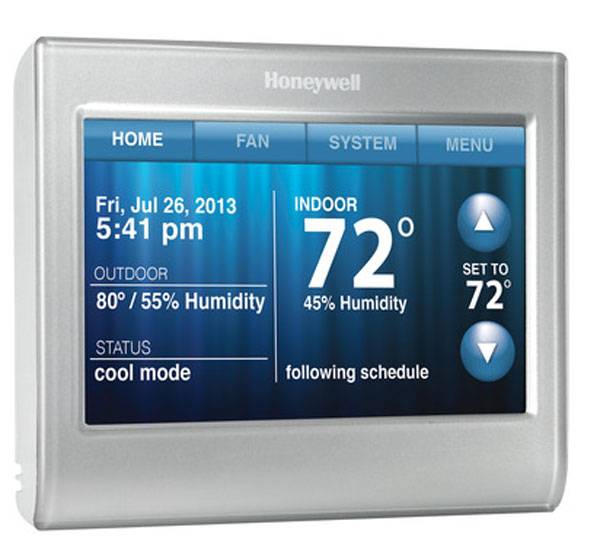 A number of smart thermostats for your home or office have turned up over the last few years bringing interesting features to help you save money on your utility bills. A new smart thermostat has turned up this week called the Honeywell Wi-Fi Smart Thermostat. The thermostat offers complete control to users from anywhere via an Android smartphone application.
This particular thermostat is aimed at the DIY market and will be available in home improvement stores across the country in May for $249. Honeywell says that one of the big features of the thermostat is the ability to customize it to blend in with just about any home decor. The thermostat has a silver bezel, but the background of the LCD screen can be changed to color coordinate with your wall color.
The thermostat uses a large touchscreen and has robust mobile and e-mail notification services. The notification services can alert you if your home is too hot or too cold. Notifications can also be sent to the homeowner if the humidity level in the home gets too high or low and to alert you when it's time to change the filter. Alerts can even go out to your mobile device if your home loses power.
One of the most important features of the Wi-Fi Smart Thermostat is its Smart Response technology. That technology allows the thermostat to learn how long it takes to heat and cool your home making it easier to maintain the temperature you want. Like most programmable thermostats, the Honeywell unit can be programmed to turn off the air conditioning or heat when you're not in the home. However, this thermostat knows how long it takes to get your home down to the temperature you like and can adjust its program schedule to be sure when you walk through the door the environment in your home is comfortable.
[via SlashGear]