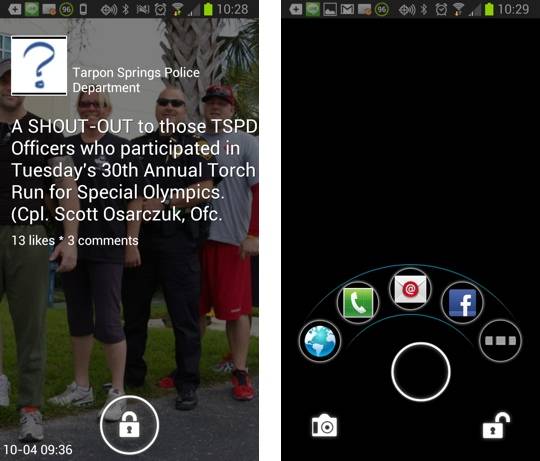 Facebook Home will land in the Google Play Store this coming Friday, and while it will be free to download and free to use — there are some catches. For one, the Facebook Home launcher will give you a fairly different experience as compared to what you are used to seeing on your handset. Not to mention, the Facebook Home launcher will initially only be compatible with select devices. That being said, it looks like there may be an alternative solution available from Widdit Labs.
This company, for those not familiar, does lock screen apps. They have the Homebase Lock Screen app, as well as various branches including the Homebase Jelly Bean Lock Screen app. And well, it looks like they have since launched the Facebook Home-like version. This one is called Homebase — Facebook Home Theme and is available for free and by way of the Google Play Store.
The lock screen replacement app will run on devices with Android 2.2 or later and touts itself as being able to offer the "slick look" of Facebook Home, but at the same time still allowing you to unlock your phone and access apps the way you're used to. Anyway, with this lock screen replacement you will have your Facebook details ready and available before you even unlock your phone.
Some of the features include being able to set a default background, pick a personal unlock icon and choose a custom unlock sound as well as being able to add screens, remove screens and re-order screens. Customizing aside, in use, the app will show one story at a time and also allow you to swipe to see additional stories. Bottom line here, Homebase with the Facebook Home theme seems like a good option for those who prefer the current setup of their phone, but that also want to get Facebook information with little effort.
[via Google Play Store]