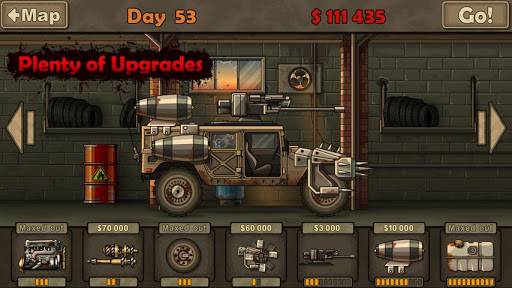 Who's ready for some action-packed good old fashion zombie killing? The popular hit game from iOS and desktop PC's Earn to Die has just arrived this week for our Android smartphones and tablets. You'll be able to wreck and drive your way through the zombie apocalypse in no time. Read on for additional details, video, and links to this fun game.
With a zombie apocalypse that has taken over our cities, you'll be equipping your car or truck with weapons galore to fight off the hoards. From weapons, armor, to all sorts of ramming accessories like spikes and more. It's a bloody mess but it's bloody fun. With more than 200 million players already enjoying it, why not Android right?
The game has been praised for the awesome lifelike physics and ragdoll effects when running through zombies, not to mention all the additional add-ons and accessories really makes this game shine. It's been a smashing hit on iOS and it's about time we get to enjoy it on Android. Check out the initial trailer below for an idea on what to expect.
Looks like a blast right? With more than 8 different vehicles, tons of weapon selections and options, and a brand new story mode this surely will be worth the low price. Earn to Die is free on Google Play in a limited version, then for full out zombie killing fun get the full version linked to below for only $1.19 available today. Get a few rocket boosters and prepare to introduce some zombies to your car's front bumper. Check out other zombie games from our timeline below.
[via Play Store] – Free Version