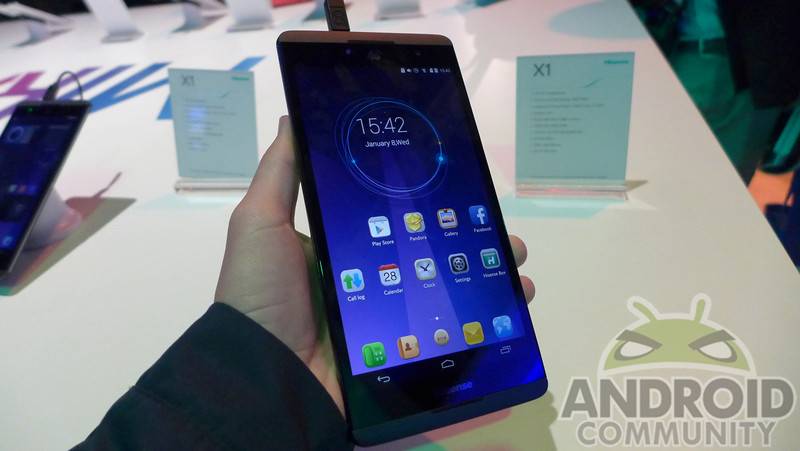 Smartphones seem to be growing in size, but there is a point where a device should be considered a phablet, or in the case with the recently unveiled Hisense X1 — a tablet. Coming out of CES 2014, Hisense has unveiled the 6.8-inch X1 smartphone. Naturally, we were a bit curious about this oversized smartphone so we made sure to spend a bit of hands-on time checking it out.
The display has a resolution of 1920 x 1080, which is likely what you would hope and/or expect to see on a 6.8-inch display these days. To show just how big this phone actually is, we included the shot with a hand covering the display. More specific though, the Hisense X1 measures in at 152.8 x 79 x 9.7mm in size. Most of the specs are on the higher end, however there are a few lesser points.
Things begin with a Qualcomm Snapdragon 800 processor with 2GB of RAM, which are the nicer points. The handset only has 16GB of internal storage and sadly, is launching with Android 4.3 Jelly Bean as opposed to Kit Kat. Shifting back to some of the better specs and we find a 3900 mAh battery, 5 megapixel front-facing camera and 13 megapixel rear-facing camera.
Despite being on the larger size, and likely not very pocketable — the X1 seems to be a solid handset. The construction feels good and there is also 4G LTE connectivity. For now that support is limited to China Mobile, however Hisense did say the X1 would be coming to the US market. On the flip side of that statement, they have yet to say when that will happen or how much the phone will be selling for.