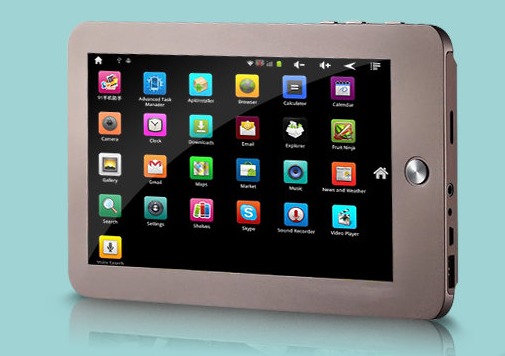 For those out there looking for a budget Android tablet I may have found one for you. What we have here is the Herotab M6, this is a nice budget tablet with Android 2.3 Gingerbread and a few other decent specs that makes it worth the low price of just $159. That and it comes with free shipping and a free screen protector.
Don't get me wrong this is nothing fancy whatsoever, but we do get a decent 7″ display that is actually capacitive touch. Most cheap tabs have terrible resistive panels. Also included is a speedy 1 Ghz processor, 8GB internal storage, micro-SD support for extended storage and even a full-sized USB port. It might not be the thinnest tablet but it's also a great price.
They look to have added some nice on-screen controls to the Android 2.3 Gingerbread as we have no standard Android buttons other than the dedicated home button. All of this is only $159 at kgbdeals.com. We might not have a 10″ display or Honeycomb but to have a 1.0 Ghz CPU, 8GB storage and Gingerbread all for that price this is hard to pass up. We know nothing of build quality or anything else but from the picture it appears decent. Give it a chance you might like it.
[via kgbdeals]